Busy Philipps: My Body Takes to Pregnancy Like Nobody's Business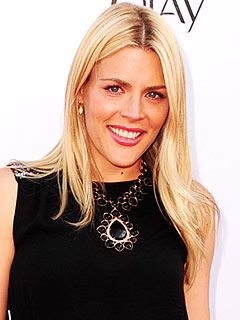 Frazer Harrison/Getty
When Busy Philipps decided to expand her family, the actress knew the cast and crew of Cougar Town would have her back – and that character Laurie could even benefit from the decision.
"The good news about Laurie is that she loves highlighting her boobs, and when you're pregnant, your boobs get real big," Philipps jokes to PEOPLE about how she hid her pregnancy while shooting the show's fourth season, which premiered in January on TBS.
"My boobs grow three sizes in the season. My body takes to pregnancy like nobody's business."
Beyond the physical changes, her impending arrival has also started to affect Philipps's day-to-day life, something her 4-year-old daughter Birdie can attest to.

"She looked at me the other day and said, 'Mama, I think that baby in your tummy is making you crazy.' Which is hilarious and also so sadly true," says the actress, who's married to screenwriter Marc Silverstein.
"She really understands what's going on," Philipps, 33, continues. "She's actually coming with me to an ultrasound appointment because she asked if she could. I think it'll be really nice for her to be a part of it."
And while some children struggle with the addition of a new sibling, the Freaks & Geeks star says the opposite has been true for her oldest.
"I explained to her that it's okay to feel two ways about it, that she can be really excited and also nervous or scared. She confided she was nervous that maybe the baby was going to like her more than the baby likes me," Philipps says with a laugh. "She's a sweet, good kid and I almost feel like, 'Why am I doing it again? I love her so much.' Good luck to you second kid."
—  Kiran Hefa