See Busy Philipps and Constance Zimmer's Stylish School Projects
Who knew Busy Philipps and Constance Zimmer had such sartorial skills? To help their daughters Birdie Leigh, 4, and Colette Zoe, 5, (who attend the same preschool in Los Angeles) with a school project, the resourceful moms tried their hand at fashion designing — D.I.Y-style.
"I have to make a dress out of recycled materials for my kid's preschool Project Runway like assignment. I'm currently fusing plastic bags," the Cougar Town star Tweeted.
After Philipps announced she had already started whipping up her creation, Zimmer replied that she was also hard at work surrounded by piles of newspapers, bubble wrap and plastic bags.
And with that, the competition was officially on! "Watch it Zimmer, I'm planning to win. We win something, right? Right?" Philipps joked.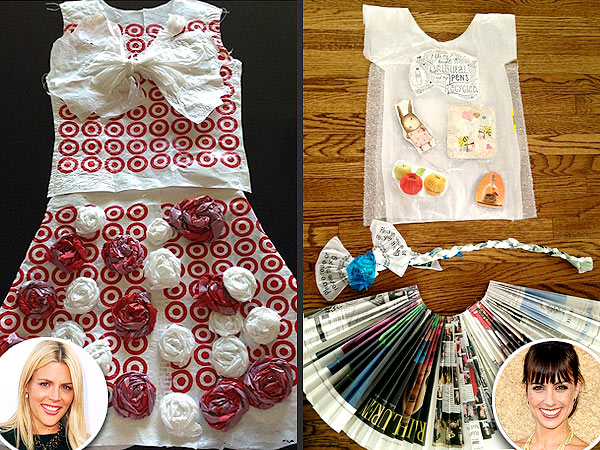 Courtesy Busy Philipps; Courtesy Constance Zimmer. Insets: Getty; Filmmagic

In our book, both designs earned an A. Philipps's matching skirt and blouse combo featuring Target's bulls eye print — complete with an oversize bow and chic red and white rosettes — made Birdie the cutest bag lady we've ever seen.
And Zimmer's braided plastic bag belt, newspaper pleated skirt and whimsical bubble wrap top is an avant garde ensemble we'd expect to see on the runway.
It seems we weren't the only ones in awe of their skills. The actresses's celeb pals were also impressed.
"[Constance you're] very talented. You acted and make crafts," Grey's Anatomy star Ellen Pompeo quipped of costar Zimmer's creation.
"That's amazing," fellow mom Autumn Reeser Tweeted to Philipps. "Birdie's preschool is so hip!"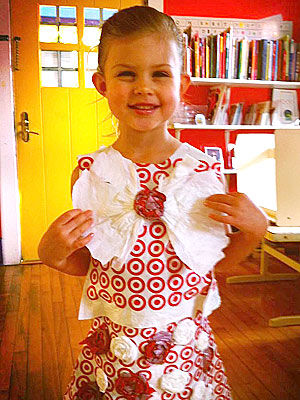 Courtesy Busy Phillips
— Anya Leon