Jillian Michael Says Son Phoenix Is 'Fiery' Like Me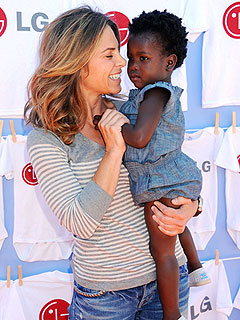 Gregg DeGuire/WireImage
Jillian Michaels' son Phoenix is already taking after his mama — just not the expected one!
Although The Biggest Loser trainer expected her baby boy to inherit her partner's laidback approach to life — Heidi Rhoades delivered their son in May — the 8-month-old's budding personality is the polar opposite.
"He wants to walk and he gets really pissed about it when he can't. He gets frustrated," Michaels, 38, told PEOPLE at the recent TCAs.
"He's a fiery little sucker, he's just like me. I'm like, 'You were supposed to be like Heidi!' But he's not. It's not good, not good."

Admitting she is "terrified for when he's a teenager," Michaels has good reason to be: Recently she spotted her son — who is "crawling aggressively" — putting his electrician skills to the test in the family room.
"He's into everything, which is kind of a nightmare to be totally honest," she says. "We have an outlet in the floor in the living room and I caught him eating the outlet on the floor … I was like, 'Mother of God!'"
Phoenix's big sister Lukensia, 3, has also been busy keeping her mamas on their toes. "Lu just had her first ski trip and she had a little crush on her teacher, Ollie," Michaels shares.
"At first I was like, 'Oh my God, we're letting our baby go!' The second day we took her she ran right to him — loves Ollie."
–– Anya Leon with reporting by Michele Stueven