Michael Douglas Has Dating Advice for His Son: Be Courteous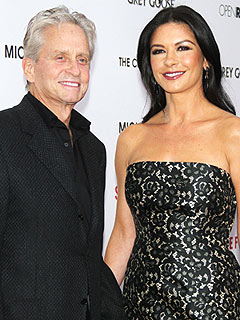 MediaPunch Inc/Rex USA
For most parents, nothing is scarier than the idea of their teen starting to date — even if you're Michael Douglas and Catherine Zeta-Jones, whose 12-year-old son Dylan is entering that arena.
"I'm trying to digest it all, and I'm just trying to remember what it's like to be in a teenage romance," Douglas, 68, told PEOPLE at Thursday's New York premiere of Zeta-Jones's new film Side Effects, sponsored by Cinema Society and Michael Kors.
"And what I remember scares me as a father!"
Actually, the doting dad says he set relaxed dating rules for Dylan, because his son is so responsible.
"I'm not the over-protective dad," says the Oscar winner. "Dylan is a great kid and I trust him. He's having fun and conducting himself very well."

And does the star of HBO's Liberace biopic Behind the Candelabra — who gets to kiss Matt Damon onscreen — determine which girls Dylan can or cannot date?
"I don't have much say in it. I keep my mouth shut," said Douglas. "But I like his choices so far."
Douglas, who has been happily married to Zeta-Jones, 43, for 12 years, has one piece of advice to give to his son about courting women: always be courteous.
"Unsolicited advice is a hostile gesture. I remembered that from a long time ago," he says with a laugh. "But I want him to know to always be polite and respectful. Just don't try too hard. If he asks me for specific advice, I'll have a long talk with him."
As for his own relationship with Zeta-Jones, "Catherine and I are doing well," he said. "She is more beautiful than ever inside and out. I support her with everything and she is simply the best."
— Paul Chi