Nick Cannon Doesn't Joke Around When Disciplining Twins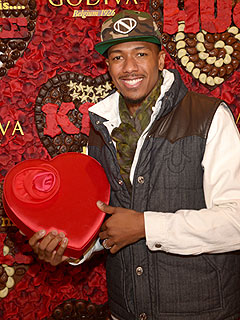 Michael Simon/Startraks
Nick Cannon may have a reputation as a goofball, but when it comes to teaching his kids good behavior, the funnyman is all business.
Fortunately for Cannon and wife Mariah Carey, 21-month-old twins Moroccan and Monroe, are showing no signs of the terrible twos.
"My kids — it's a blessing — they're extremely disciplined," Cannon, 32, tells PEOPLE at Godiva's Decadent Pop Up Chocolate Photo Booth in Rockefeller Center Thursday.
"They try [misbehaving] with other people because everyone gives them so much attention, but when it comes to my wife and I, we only have to say something once," explains Cannon, who called himself a "stern father."

"We ask them to have a seat, they sit down, cross their legs and put their hands in their lap. I hope it lasts!"
While his superstar wife's high notes are legendary, it's the volume of Cannon's voice that gets the twins to fall in line.
"I've got the loudest voice in the house," he notes, "so they've always responded to that ever since they were newborns. They hear my voice and they freeze."
One thing that may end up getting "Roc and Roe" in trouble is the love of sweets they inherited from their chocolate-loving dad.
"We have a candy store inside of our L.A. house, and the basketball court is beneath it. My son tricks me. He'll say 'basketball,' and then every time, when we walk to the court, he runs to the straight to the candy and takes a handful," Cannon says with a laugh.
"He's not even 2 yet, but he knows how to play the Jedi mind trick!"
— Sabrina Ford