Dax Shepard: How Obama Shared In His Baby Announcement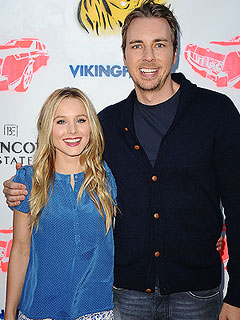 Jason LaVeris/FilmMagic
It was the announcement seen around the world: The night before the election, President Barack Obama was wrapping up his campaign.
Oh, and Dax Shepard and Kristen Bell were expecting a baby.
"In the last minutes of his campaigning, at the bottom [of the TV screen] you see that little banner," the Parenthood star, 38, told Conan O'Brien of seeing his own news flash onscreen during the president's moment.
"My theory is that CNN decided [that] to be truly balanced we must have both a really important news piece happening and then a completely inane pieces of news happening simultaneously. …
"I never imagined that my name would be recognizable enough to put that banner out there, and when I thought about that, I thought I'd have a lot more money," he jokes. "I'm basically like a serial killer — famous and broke."
Since the announcement, the couple have stayed mum on pregnancy details, including the sex of the baby — they know but aren't sharing. Still, Shepard is willing to reveal his high hopes for his first born.
"I really do hope that the child looks identical to Kristen — a boy or girl. I pray that [my] son look just like my wife Kristen … if we have one," he explains.
That is, Bell's beauty paired with Shepard's baby blues. "They're unbelievable. They're beautiful. They're some of the best eyes in the business," he jokes.
"It goes, Daniel Craig, Bradley Cooper and then Dax Shepard for prettiest eyes. So let's hope the baby gets those."

— Anya Leon