Claire Danes Says Son Cyrus Is 'Getting Fat!'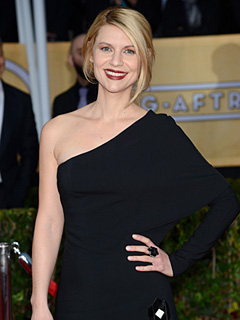 Steve Granitz/WireImage
Actresses don't usually like to talk about weight gain, but Claire Danes was more than happy to Sunday evening. Of course, the main topic of discussion was her new son Cyrus Michael Christopher.
"He's six weeks and getting fat. It's very exciting. All that time on the boob is starting to result in growth," the Homeland star, 33, tells Giuliana Rancic on E!'s Live from the Red Carpet at the SAG Awards.
"He's getting rolls … thank goodness they've arrived. He's starting to smile a little bit and he kind of knows I exist," she adds. "That's reassuring — that feedback is amazing."

Winning best actor in a TV series — drama for her role as Carrie Mathison, a Central Intelligence Agency officer, the new mom says her marriage to Hugh Dancy helps her step out of character once filming is done.
"I'm able to disassociate," the actress — wearing a one-shouldered Givenchy — explains. "There are all these unconscious rituals that help me engage and disengage  like taking my wedding ring on and off, helps free me up. I wouldn't be able to sustain it otherwise."
— Sarah Michaud