Kerri Walsh Jennings: I'm Planning on (Another) Natural Delivery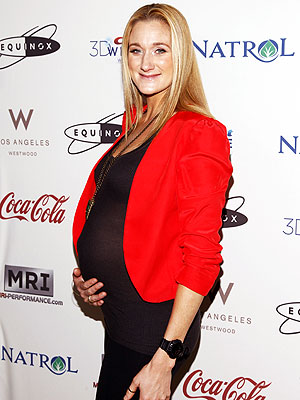 Joe Kohen/Invision/AP
Already mom to two boys and with another baby on the way, Kerri Walsh Jennings's winnings have been a true family affair.
The three-time Olympic gold medalist — who's expecting a girl in April — and her husband Casey Jennings have committed to a tag-team effort with their sons that allows for the couple to win big both in their professional and personal lives.
"It's always been my dream in life to be a working mom and have this amazing career," Walsh Jennings, 34, tells WebMD.
Bringing the boys — Joseph, 3½, and Sundance, 2½ — and Walsh's sister as the family's nanny out on the road has helped with the hectic schedules. "In 2011 they went wherever we went: all around the world, from China to Brazil to Europe," she says.

"My husband and I want to keep playing and go for the gold in Rio as well, so we'll hopefully see a lot more places as a family. That's my dream."
With all their worldly travels, it's London that holds a special place for Walsh Jennings. Not only did she score her third consecutive gold, but the volleyball superstar also discovered she was pregnant with her third child.
"I knew as well as I could know without getting it confirmed. I was late, about a couple of days late, and then I got more and more late," she recalls. "When I'd sneeze, I'd feel a pain in my tummy muscles. I thought, 'Hey, this only happens when I'm pregnant!'"
Once the media frenzy over her record-breaking win died down and the mom-to-be was back home, things took a very unexpected turn.
"The second it was confirmed I was pregnant, I started feeling sick. I had that mild hangover feeling all day long, which I never had with the boys," Walsh Jennings shares. "My face is definitely different, too. I have acne this time around, which isn't that great. My son will say, 'Ouchies, Mommy?'
While it's been a rough start, Walsh Jennings, who is planning on her third natural delivery, is hopeful her labor will go smoothly.
"Having a natural childbirth just feels right to me; it doesn't feel like I'm forcing anything," she explains. "My mom had eight kids — five of her own and she carried three for her sister — and she loved being pregnant .. She'd tell me that labor kind of hurts, but you're going to love it. I always thought she was delusional, but she was right."
Her steadfast commitment to getting back in shape is motivated by the upcoming 2016 Olympics in Rio de Janeiro, Brazil, where Walsh Jennings will be back on the sandy shores for another go at the gold.
"I look at [working out] as my job even when I'm not in the season or in training. After this pregnancy I do want to be able to hit the ground running and be as strong as I can be," she explains. "Plus, working out helps with labor and helps with my mental and emotional state while I'm pregnant."
But even with all her exercise plans post-pregnancy, the expectant mama does allow herself to indulge on occasion, especially when it comes to her cravings.
"Breakfast sandwiches. I could eat them all day every day," she says. "I think I've had at least one every week since I've been pregnant, with crispy bacon and an egg over medium on toast, with tomato and avocado. That's just heaven!"
— Anya Leon