Chris Pratt: Why I Became the 'Stereotypical Soldier' on Set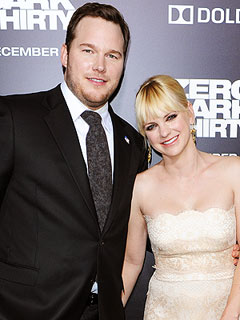 CL/Splash News Online
Chris Pratt may be deep in the depths of daddy duty, but the actor is more than willing to man up for the mission.
"[Fatherhood] is a real return on your investment. You have to invest more as the kid gets older," Pratt, 33, tells PEOPLE. "You can't just set them down in the crib and walk away. They are going to run around and require more of your attention and more nurturing."
But the first-time father — who, along with wife Anna Faris, welcomed Jack in August — can't wait for his hard work to pay off. "But with that comes their ability to say, 'Daddy, I love you,' which will happen one day," he says. "Well, at least I hope he says that."
Soaking up time with his son is extra special to the star, who plays part of the SEAL team that kills Osama Bin Laden in the Oscar-nominated movie Zero Dark Thirty.

While Pratt admits the birth of their baby boy brought him closer to his wife, the months leading up to Jack's arrival — near the end of Faris's pregnancy, he was overseas on location for the film — were often spent apart.
"Anna was really pregnant and I didn't take it lightly that we would be traveling in the Middle East," he explains. But with Faris's prompting, Pratt agreed to sign on to the project — not know that the baby on the way would make the experience all the more real.
"It was this funny thing where I felt like one of the stereotypical soldiers you see in movies, you know, where he is always staring at a picture of his pregnant wife back home," he says. "She ended up working in England so on a couple of weekends I was able to travel to London and see her there, which was really great. With Skype and FaceTime, it was a lot easier than I expected it to be."
While away from his wife, Pratt kept plenty of good company on set in the form of a testosterone fueled tight-knit (and incredibly toned!) team of fellow actors. Having grown up playing sports and with his role in the primarily male-dominated movie, Moneyball, "spending time with a bunch of male energy" is second nature to the star.
"There was something about that, something about guys who are really fit and really confident, [who] work out a lot. There is a type of swagger that comes with the territory and a type of confidence," he explains. "There is constant ribbing going on. The way we tended to communicate is through making fun of each other. That is actually the way that I grew up, and I came to discover that I really liked it a lot."
As for that particular odor that seemed to always be present on set, well, that's just the "memorable" smell of camaraderie, the actor jokes.
"Our wardrobe department only wanted to wash our gear about every two weeks. So things got pretty rotten," Pratt, who was nicknamed Pigpen, shares. "I sweat right through my gear every single day. Luckily, I was the stinkiest one, so for me it was quite nice, but for everyone else it was quite harsh."
Debuting a buff bod for his role proved to be beneficial to more than just his onscreen character.
"Being in good physical shape is the best way to combat depression. You just have endorphins running around your body. It is the best anti-depressive that there is," he explains.
Since the film wrapped, Pratt has slowly packed on the pounds for his upcoming role in Starbuck — thanks to a blend of dark beer, hamburgers, cookies and candy — and while he's looking to find a happy medium on the scale, he admits being heavier helps in his line of work.
"I primarily have had my career in comedy, and that is something that I have never been too concerned about because I know there is really no room for vanity in comedy," he says. "Comedy comes from pain and it is a lot easier to empathize with somebody who is out of shape."
— Anya Leon with reporting by Oliver Jones