Vanessa Lachey: How I Told Nick I Was Pregnant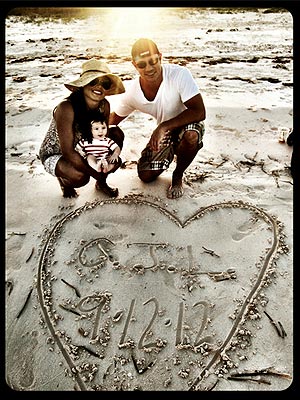 Courtesy of the Lacheys
After their destination wedding on the beaches of Necker Island in 2011, newlyweds Nick and Vanessa Lachey were ready to begin making good on the promise of a brood of babies.
But six months into trying to get pregnant, Vanessa was ready to call it quits — at least temporarily — to allow nature to take its course.
"Honestly, by mid-December, I resigned myself to the notion that it was not going to be easy for us," she writes on her new website. "So, I decided that I had to just 'let go.'"
Spending time settling into their new Los Angeles home while the couple wrapped up projects — Vanessa was busy filming Wipeout — the pair first planned a family trip to the Bahamas for a chance to unwind.

"Before we could relax and soak in the sun, I had to film [an] appearance and would meet everyone in the Bahamas the next day," Vanessa explains.
After work, the actress headed out to celebrate a friend's birthday — where telltale signs of pending parenthood suddenly began to pop up.
"I wanted absolutely everything on the menu! I also remember NOT wanting my martini," she recalls. "After dinner something in my gut said, 'Let's go back to the hotel … and pick up a pregnancy test on the way!'"
Proving a mother knows best, it was positive — only to be confirmed by a big batch of follow-up tests.
"I was in absolute shock! I had taken a pregnancy test multiple times every month over the past six months, but this one (and the nine others I took that night) was positive," Vanessa writes. "It was such a beautiful moment. The only thing missing was my husband, of course."
But with Nick waiting for his wife in the Bahamas, the mom-to-be managed to contain her excitement, keeping mum until she could spill the beans in person.
"I wanted to look into his eyes when I said, 'I'm pregnant,'" she shares. "I wanted to feel his hug when he grabbed me with excitement. I wanted to take in the surroundings so that I would always remember the exact moment I told him he was going to be a father."
Following "the longest night I can remember," Vanessa began the trek to the Bahamas — a journey that "seemed like an absolute eternity!" — to join Nick. Once she arrived, the expectant star quickly settled in and headed with her husband for a seaside stroll.
"All I kept thinking about was this little life inside of me that WE made. He was growing and we were going to become a family," she says. "At that moment everything in me felt so right. I was bursting with emotion and wanting to tell Nick the good news."
Vanessa was finally ready to break the news to the unknowing dad-to-be — a moment she will remember forever. "I took a deep breath, grabbed his hands, looked him in the eyes and told him, 'I'M PREGNANT!'" she writes.
"He looked at me and asked if I was serious. I said yes, we hugged and then he said, 'I think I have to sit down!' That was Jan. 6, 2012."
Now the proud parents of son Camden John, 4 months, the tight knit trio revisited the same spot where Nick and Vanessa shared the sweet moment exactly one year later, a special anniversary caught on tape.
"We will always have that memory together and now Cam will have one, too," the new mom shares. "I took this video that I will embarrass him with in the future, and I'm happy to share a piece of it with you."

— Anya Leon
For more exclusive content from Vanessa Lachey, visit her newly-launched website.