Great Ideas! Jason & Molly Mesnick's Chic and Sweet Baby Shower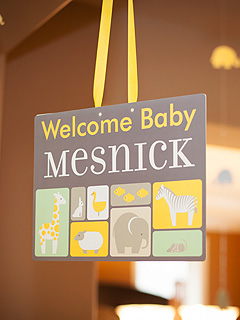 Lisi Wolf Photography
Parents-to-be Jason and Molly Mesnick are waiting till the big day to find out their baby's sex, so the Bachelor star and his wife chose a stylish, gender neutral theme (pops of yellow and mint green, adorable animal designs, vintage drinking jars) for their baby shower.
"Jason found out that Ty was going to be a boy before he arrived," Molly explains to PEOPLE.
"He wanted to do things a little different this time around, and how could I argue with that? It's made this whole pregnancy very exciting. I love the guessing game, and my mind changes on a daily basis!"
Want a peek inside their chic soirée? Luckily, the couple shared photos and details with us. Check them out below.
VIEW THE GALLERY: Jason & Molly Mesnick's Chic & Sweet Baby Shower