Jeremy Sisto: Why We Named Our Son Bastian Kick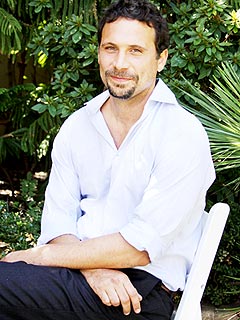 Munawar Hosain/Startraks
After the birth of his son, Jeremy Sisto wasn't looking to win the name game — at least not right away.
"We didn't name him until the baby was about a month because we didn't want to rush into anything," the Suburgatory star, 38, jokes to PEOPLE at the recent TCAs.
Fortunately, the actor and his wife Addie Lane — already parents to daughter Charlie-Ballerina, 3½ — received the kick start they needed when they were introduced to Sisto's costar Cheryl Hines' beau, Robert Kennedy Jr.
"I met Cheryl's boyfriend's daughter who's called Kick and that was actually where I came up with it. It was inspiration," he says.

"We were going to name our [daughter] Charlie Kyd, but David [Duchovny] already named his kid that so I decided against it. And Kick was similar to Kyd."
With the middle moniker set, the couple went back to the books for baby boy's first name. "He felt like a 'B' somehow … and we went for the B's," Sisto explains of their final decision, Bastian.
"Like that NeverEnding Story movie — his name was Bastian," he adds.
Up next for the proud parents? Making it all official for their 10-month-old. "I think it's actually Kick on the birth certificate still, but we're going to change that soon," Sisto shares.
— Anya Leon with reporting by Michele Stueven