Chely Wright Expecting Identical Twins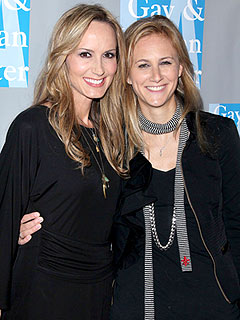 Jim Smeal/BEImages
Chely Wright is about to be a mom — times two!
The country singer, 42, is expecting identical twins with her wife Lauren Blitzer-Wright. The couple announced the news Wednesday on Howard Bragman's YouTube show Gwissues.
"We're excited to be parents and we hope we don't mess it up too badly!" Wright told Bragman. The twins are due in July but "with identical twins they typically have to be delivered a month early," she added.
"We're anticipating I'll be as big as a … bus or an A-frame house by around June," said Wright, who shows off her tiny baby bump in the video.

Wright met her future wife, 31, just two weeks after coming out in May 2010, and the couple tied the knot in an August 2011 homespun ceremony in Connecticut. Now they're eager to embark on the "adventure," as Blitzer-Wright puts it, of motherhood.
"When gay couples have babies it's logistically a little different than when straight people have babies as we all know," Wright told Bragman, adding that she had been suffering morning sickness in the evenings.
"We feel like God blessed us with twins," she added. "We feel our entire relationship has been blessed. We feel lucky and ready to take on the challenges."
— Michelle Tauber with reporting by JD Heyman