Melissa Rycroft Tricks Her Daughter (and Husband!) at the Dinner Table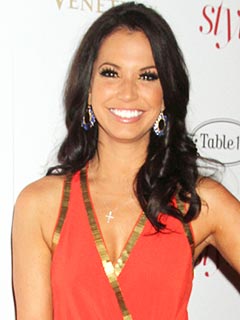 FameFlynet
She triumphed with her fancy footwork on the dance floor, but Melissa Rycroft may have finally met her match.
Although completely head over heels in love with daughter Ava Grace, 2 next month, the first-time mom admits her little girl has her beat.
"She pushes my buttons like nobody else on this earth can do," Rycroft, 29, tells PEOPLE.
"She's going through that phase right now, the 'I'm sorry, Mommy, you didn't want me to touch this? This right here I wasn't supposed to touch?' And she just gives you this look and I want to be so angry with her, but I can't!"
Rycroft isn't the only one being tested by the toddler; Dad Tye Strickland has been known to be on the receiving end of a few of Ava's tricks, too.

"It's Daddy's day with her while Mommy goes and works and as I was leaving [Ava] pooped in the bathtub," she says with a laugh. "It's little things like that where I go, 'That's my girl! There you go, Tye!'"
At the end of the day, however, it's Rycroft versus the father-daughter duo — at least when it comes to the dinner table.
"We don't want to make her a vegetarian or just a meatatarian or just a hot dogatarian like most toddlers are," she quips. "It doesn't help in my house that my husband also eats like a 5-year-old, so it's almost like I'm raising two kids [and] trying to get vegetables in both of them."
Noting that "if it's green [Ava's] not going to eat it," a crafty Rycroft reveals she may have finally found the secret to her struggles.
"I'm finding new recipes online of how you can kind of hide vegetables in meals and so far they can't tell that it's there," she shares. "There's a nice stuffed chicken you can do [where] you can put some spinach and cheese right in there. They'll never know it's there!"
— Anya Leon