Great Ideas! 4 Ways to Inspire Crafty Kids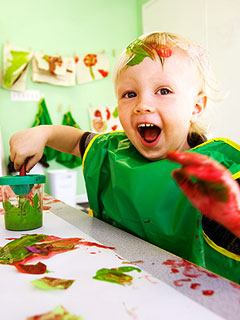 Getty
"When I was a kid, my family had a giant craft table, and we spent a lot of time making stuff at it," says Todd Oldham.
Known for his fanciful product and interior designs, the artist recently launched an affordable collection of children's crafting supplies for Target, Kids Made Modern, which includes everything from D.I.Y. frames and colored pencils to cool comic book kits.
"Nothing makes me happier than having kids discover their creativity and unlock their imaginations with art," says Oldham, who shared his tips below with us.
VIEW THE GALLERY: 4 Ways to Inspire Crafty Kids