Busy Philipps: Why I Announced My Pregnancy on Twitter
Busy Philipps definitely didn't go to town with her pregnancy announcement.
Passing on the popular phrases and official statements, the Cougar Town star decided to downsize her reveal, taking to Twitter to share that she and husband Marc Silverstein were expecting another baby.
"I just wanted it to come directly from me in my voice. I always hate those celebrity statements that are like, 'We are so over the moon and overjoyed,'" the actress, 33, shares during an appearance on Anderson Live airing Wednesday.
"I just wanted to be like, 'So this happened, it's life guys. I am a woman, I am married, I have a kid, I am going to have another one, I'm pregnant.'"
But skipping the sweet sayings doesn't mean Philipps isn't completely ecstatic over expanding her family further.
"All of that goes without saying. Of course it's a blessing, of course I am overjoyed," she explains. "It sounds so lame when I read it in print, so this happened — I am pregnant. Let's move along."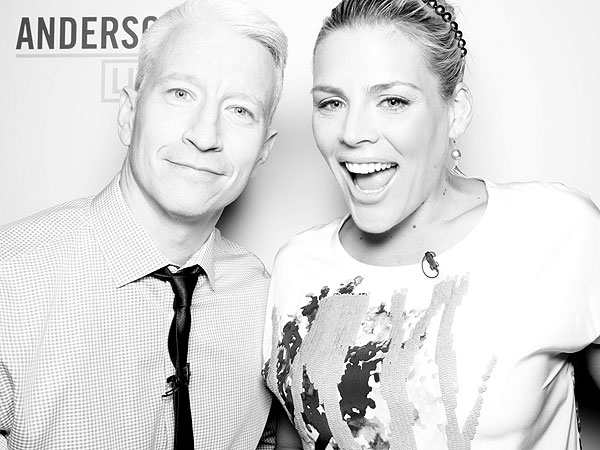 Courtesy Anderson Live

Until baby arrives, the mom-to-be is busy living up to her name with daughter Birdie Leigh, 4. Taking a laid back approach to raising her children — under certain conditions! — Philipps jokes her parenting plan recently took an unexpected turn after a trip to Mexico.
"My parenting theory is you can wear whatever you want. I don't care as long as [Birdie's] going to get good grades at some point — she's in preschool now — and be a decent human being," she says.
"So she picks out her own clothes and she found this dress in the gift shop in Mexico. This really unattractive strapless dress, but she's 4, and it just kept sliding down. She would yank it up and it would slide down."
When Birdie decided to wear the dress to dinner on New Year's Eve, even a sudden wardrobe malfunction couldn't throw the funny girl's daughter for a loop.
"We look over and it's around her waist and she goes, 'Whoa, no one wants to see boobs at a fancy restaurant,'" Philipps recalls. "But the craziest thing is — this is like only my kid — there was a perfect beat and she was like, 'Just kidding! This isn't a fancy restaurant.'"
But it's Philipps who got the last laugh when she recently borrowed some inspiration from Birdie's day camp to rework the bedtime routine.
"Every day these little girls went on these fairy hunts and would come home with these stories and their eyes would light up with the magic of the world. I, of course, wanted to know how to exploit that as a parent," she jokes. "So I decided that the fairies would leave her little notes in the morning rewarding her good behavior. And she tells her friends my fairies came to the house and left me a note."
And while Philipps is proud of her plan, all bets are off when Birdie learns to read.
"I didn't even know how to spell fairies and I added the 'i' in. She's going to get older and be like, 'Wait a minute,'" she says, sharing a snapshot of her note.
— Anya Leon