It'll Be a Girl for Nick and JoAnna Garcia Swisher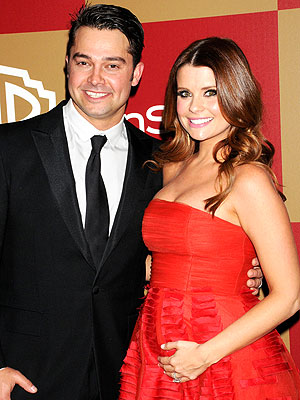 Paul Marks/Broadimage
This spring will bring more than just May flowers for Nick and JoAnna Garcia Swisher — the couple will welcome a baby girl that month as well, they confirm to PEOPLE exclusively.
"I'm just so excited," the outfielder and first baseman, 32, told PEOPLE at the InStyle/Warner Brothers Golden Globes after-party on Sunday. "As long as she's healthy, that's all I really care about."
As for the mommy-to-be, 33, the former Animal Practice star is just enjoying the "honeymoon stage" of her pregnancy after a "humbling" week of being "really into mayonnaise."
"I tried to put it on everything but that faded," Garcia Swisher, who was wearing a Sachin + Babi dress and Marina B. jewelry, explains. "Now I'm just trying to eat healthy and you know, the further I get in the pregnancy the more I need to eat!"

With Swisher — who recently wrapped a stint with the New York Yankees — accepting an offer to play for the Cleveland Indians, the expectant parents have been busy prepping three different nurseries for their bundle of joy.
"My husband works in one city, I work in a second city and we live in a third city, so we have a lot of cribs to buy," the actress shares.
And though they've got several more months to go, the couple can't wait to meet their daughter.
"It's been a wonderful journey for us to be able to do this together," says Swisher. "It's going to be great. In a couple of months, our lives are going to turn upside-down."
— Melody Chiu