Claire Danes: I've Been Busy in Baby World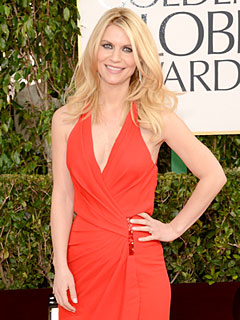 Jason Merritt/Getty
Claire Danes won big during Sunday night's Golden Globes.
Not only did the Homeland actress take home Best Actress in a TV Series Drama, but she also scored a coveted date night out with husband Hugh Dancy — a rare moment for the couple since welcoming son Cyrus Michael Christopher in December.
"I'm deliriously happy and also excited to be in this scene because I've been so sequestered. I've been in baby world," Danes, 33, told E's Ryan Seacrest on the red carpet.
Ditching her day-to-day apparel for a red hot Versace gown, the new mom's chance to go glamorous didn't come without running a risk. "I've been in sweatpants for quite awhile, so this is exciting," she shares. "I'm hoping I don't leak anytime soon."

And while Danes didn't pack on the pounds while pregnant due to her demanding schedule, she admits her sexy svelte figure only four weeks after baby wasn't all her own doing.
"I literally can't go to the bathroom unless I take the entire dress off. So yes, there is some serious Spanx going on here," she told PEOPLE.
"I was on my feet a lot during the pregnancy. I was working hard. So I didn't have an opportunity to gain much weight while I was pregnant."
But when Danes took the stage to accept her golden statue for her role as CIA agent Carrie Mathison, her thoughts immediately turned to giving credit where credit is due: to her constant companion — and partner in crime — of season two.
"I have to thank our son Cyrus — who's upstairs with my parents right now — for joining me throughout the whole process and for being so game in fighting this war against terrorism," she joked.
"I admitted to everyone on our show early on in our season that I was with child — that Carrie was in fact carrying. They were all so, so supporting."
Actually celebrating her big night — which also included her show winning Best TV Series Drama — with her son, however, is sure to be much more low-key. "It's a very calming presence, you can't get too hysterical around him," Danes told Seacrest.
— Anya Leon with reporting by Dahvi Shira