Adele: Sharing My Son's Name Is Too Personal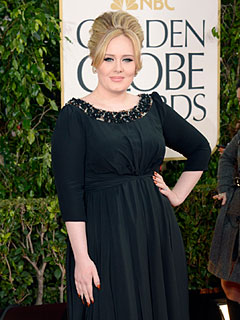 Getty
What started as a mom's night out ended on a high note for Adele, who won Best Original Song for the Skyfall title track at Sunday's Golden Globes.
"Honestly I came for a night out with my friend Ayda, we're new mums. I was not expecting this. Thank you so much," the songstress, 24, said while on stage accepting her award.
"This is for my boyfriend Simon [Konecki] who convinced me to do it and my lovely son. Thank you so much."
Talking to reporters backstage following her big win, the Grammy award winner admitted that while agreeing to lend her voice to the song proved to be a success, the decision didn't come easily.

"It is a huge responsibility and a lot of pressure. That movie was huge," she explains. "And I was pregnant. I had my child about two weeks before the film came out. So it was bad timing."
But now with her golden statue in hand, Adele can return to tending to her baby boy — and her hardworking hands.
"I am exhausted, that's how [motherhood] changed me. I have eczema from boiling bottles," she says, before adding she isn't willing to spill too much about her son.
"I am not sharing his name at the moment. It is very personal to me," she explains. "I am enjoying him on my own."
— Anya Leon with reporting by Dahvi Shira