Jared Padalecki: Seeing My Son Sick Is Hard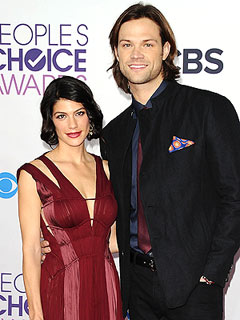 Kyle Rover/Startraks
While some parents are busy celebrating their baby's newest milestone, Jared Padalecki is stuck feeling sorry for his 9-month-old son's latest first.
"He just got sick for the first time. It's a really vulnerable feeling when your kid gets sick because you can't really do anything," the Supernatural star told PEOPLE of son Thomas Colton at Wednesday's People's Choice Awards in Los Angeles.
"You don't just want to pack them full of drugs and make them feel better, so you're kind of sitting there and he's congested."
Adding to Padalecki's guilty conscience? "I'm congested too," the actor, 30, admits. "That's another thing — I feel like I got him sick."

But with Thomas on the mend — "He's not feeling great, so he's on some drugs," the new dad shares — baby boy is sure to be back to his old self soon … literally!
"It's really funny, because … we've met a lot of new parents with little babies, and a lot of babies seem like babies, but he feels like he's kind of an old soul," Padalecki shares.
"He kind of looks at you and tries to figure you out, which is cool. I hope he's a mature kid."
— Anya Leon with reporting by Gabrielle Olya