Miranda Kerr: Orlando and I Are Too Busy for Another Baby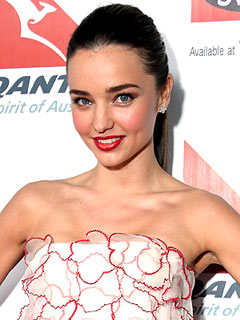 Alex J. Berliner/ABImages
Party time!
After last year's low-key celebration, Miranda Kerr and Orlando Bloom went a bit bigger for their son Flynn Christopher's second birthday, inviting 15 of his pint-sized pals over for a backyard bash.
"It was a lot of fun … and it was a really special celebration," the Victoria's Secret Angel, 29, told reporters at Qantas Australian Celebrity Party Wednesday in Beverly Hills, Calif.
"We had a little bubble machine and the kids loved it. We also had little bunny rabbits and chickens."
Amid speculation of a split, Kerr says the couple are in fact busy concentrating on their baby boy before contemplating the idea of a second child.

"We are really enjoying our time with Flynn at the moment. He's such a ball of love and he's so wonderful," she shares.
"And we are both so busy that I think it's nice to have that time together and not rush any other babies for now."
Citing "communication and honesty" as key components to a successful marriage, the model admits despite time often spent apart from Bloom, the two constantly keep in touch.
"Lots of Skype. Especially now that we have our son," she says, adding Flynn is a fan of the video calling. "I'm not much of a talking on the phone person. I prefer to text. It's always very hard to get me on the phone."
But even between their hectic schedules and worldly travels, Kerr is still determined to keep Flynn in tune with his Australian heritage — particularly their unique cuisine.
"He says, 'G'day mate' and he puts a thumb up, too," she says. "My grandma introduced him to Vegemite and he's never turned back. [He says,] 'Mummy, mummy, Vege.'"
— Anya Leon with reporting by Raha Lewis