Heidi Klum's Babies 'R Us Collection Gets Even Bigger (and Cuter!)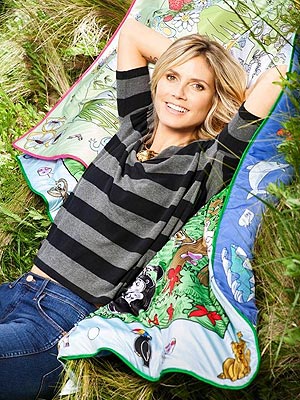 Courtesy Heidi Klum
It's nice to see a mom of four so laid back!
But we all know Heidi Klum is always working on something — including adding several new items to her Truly Scrumptious Babies 'R Us collection.
The Project Runway judge rang in the New Year by posting a photo of herself kicking back on the new What Can You See reversible indoor/outdoor blanket ($50), which is perfect for tummy time and features a gaggle of zoo animals on one side and an aquatic wonderland on the other.
A chic all-black stroller/car seat travel system ($330), play yard ($180) and high chair ($150) are also new to the collection and are emblazoned with Klum's signature asterisk pattern, which she designed herself.

But, of course, there's more in the works. In the coming weeks, the uber-mom is launching a new wave of adorable spring apparel, including casual clothes and accessories for little ones ages newborn to 5T.
Ruffles, animals and flowers adorn the cute outfits and we're sure the littlest members of Klum's quartet — Johan, 6, and Lou, 3 — will be rocking some of the pieces soon.
– Amy Jamieson