Ali Landry: Estela Is 'Very Protective' of Marcelo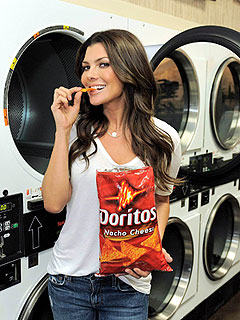 Courtesy Doritos
Ali Landry can scratch one stressor off her list: getting 5-year-old daughter Estela Ines to enjoy her education.
"She loves school," the actress and model, 39, told PEOPLE on Friday. "Yesterday was the first day back, and I told her she could miss it, and she insisted on going because she had to show her friends all of the pictures from her trip."
Estela, who is in kindergarten, "just had her Christmas performance and she grabbed the microphone and made it a little solo. She's definitely a very outgoing, outspoken, extroverted child."
When little Estela isn't busy being involved in school activities, she's looking after her younger brother, Marcelo Alejandro, who is 14 months old and just started walking.

"She's very protective of him," Landry says. "And at his age, he wants to put everything in his mouth. So she's my little watchdog. She watches everything he does. She's like, 'Marcelo, no! Don't put that in your mouth!' She'll take care of him if he's doing something he shouldn't be doing. And he adores her. Anything she does, he's giggling and laughing."
Taking a moment away from her family, Landry – who was the iconic Doritos girl in 1998 – teamed up with her former chip company to campaign for its "Crash the Super Bowl" contest, in which people can vote between now and Jan. 29 on which finalist's fan-made commercial should air during football's biggest day of the year.
"My daughter came with me to the shoot when we were introducing the top five finalists and giving all the specifics on the contest," the model says. "She had her first nacho cheese Dorito there. By the end, her tongue was totally orange and every finger was covered. She begged me and made me promise I'd bring her back a bag of Doritos. I did!"
— Dahvi Shira