Jessica Simpson: Motherhood Is the Best – and the Most Challenging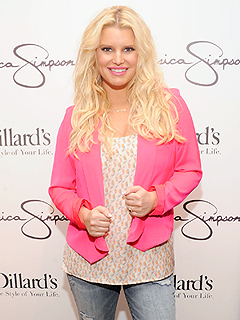 Jamie McCarthy/Getty
Being a working mom has its ups and downs for Jessica Simpson.
The Fashion Star mentor, 32, who announced on Christmas Day that she is expecting her second child, recently told PEOPLE, "Motherhood is the best thing I've ever experienced – and the most challenging."
Balancing her career with her personal life is one of Simpson's struggles.
"On some of the days of Fashion Star, I'm awake before [my daughter Maxwell] is awake, and I'm not home until she's already back to sleep," she explains.
"That's only happened about four times, but it makes the day awful. I definitely need to see my baby."

"I get really sad if I don't get to see her," she continues. "And then when Maxwell sees me, she just stares at me and touches my face. I can tell she missed me. That breaks my heart."
But at the end of the day, Simpson and her fiancé Eric Johnson "feel like we've done such a good job" parenting thus far.
Calling Johnson "a great father," the starlet goes on to say, "It is the sexiest thing in the world to watch how he handles [Maxwell]. We're both learning together, but it's fun because we both get to grow in our relationship together."
As a mom to her eight-month-old, Simpson says, "There are little things that you kind of obsess over. I never knew how protective I was until I had my own child. I'm already thinking about intruders coming into the house and what our escape route would be."
Simpson's personal style has also changed since becoming a parent.
"I find myself going for more sophisticated looks, but I do think that's kind of trendy right now — just a classier-looking woman," she says. "I love to show off my curves, but being a mom, I guess I do it in a little bit more classy way, even though for Halloween I was a milkmaid – but there are moments."
— Dahvi Shira