Baby on the Way for Kris Allen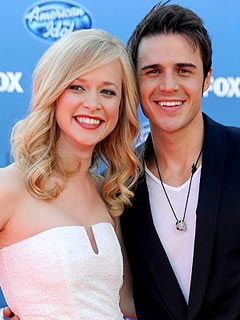 Frazer Harrison/Getty
Kris Allen certainly started the new year off with a bang — he was involved in a head-on collision Tuesday evening, resulting in a broken wrist — and a pregnancy announcement.
"Thank you Ford for equipping me with a car that kept my whole family [wife Katy and French bulldog Zorro] and the little one we have on the way safe," the American Idol winner, 27, Tweeted.
"Yes I got in a really bad wreck tonight and yes I'm having a lil baby. #gonnabeadaddy"
The musician assures fans that his "Out Alive" tour — scheduled to begin next week — is still on, although with surgery planned for Friday, Allen may not be able to play guitar for a bit.

He and Katy, his high school sweetheart, were married in September 2008.
— Sarah Michaud