Mini Must-Have: Sasha and Kai Schreiber's Cool Backpack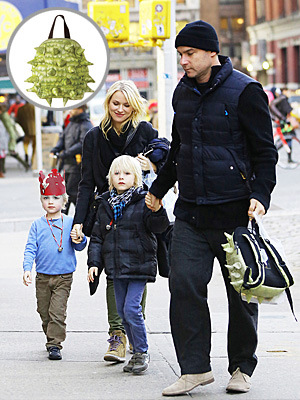 Splash News Online
How spike-tacular!
On Dec. 13, we spotted Naomi Watts, Liev Schreiber and their sons — Sasha, 5, and Kai, 4 — picking up some sweet treats from Billy's Bakery in N.Y.C.
And while the fun foursome strolled home, we couldn't help but notice Kai's adorable red crown and the lime green bag Schreiber was carrying.
Unfortunately, we weren't able to find out who makes the little guy's cute headgear, but the pack is from MadPax. It's the Lator Gator Half Backpack in Snap Dragon ($48), which is the perfect size for preschooler supplies.
Even better, they added Mabel's Labels personalized bag tags so they can keep track of their precious cargo.
— Anya Leon