Sarah Drew: Baby Micah Might Be a Musician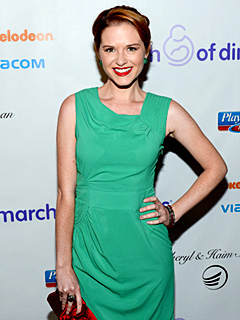 Michael Buckner/Getty
She may shine as an actress on television, but off screen, Sarah Drew is a singing sensation — at least around the holidays.
"Every year we do caroling, we love music so we do a big Christmas caroling party," the Grey's Anatomy star, 32, told PEOPLE at the March of Dimes Celebration of Babies luncheon on Dec. 7 at the Beverly Hills Hotel.
"We bring a bunch of people into our home and we rehearse and have four-part harmonies and go out and around the block."
But while Drew and her husband Peter Lanfer have plans to continue on the annual tradition, there will be a new caroler among their crowd: 11-month-old son Micah Emmanuel.

"He's super vocal. We have him in music classes and … he has every different kind of instrument you can imagine, like a xylophone, and drums and shakers," Drew says. "It's really fun. I just want him to appreciate music. He doesn't need to be a star."
Other than belting out his little lungs, Micah has been busy meeting all of his milestones, including "almost" perfecting his wobbly walk.
"He's toddling along, he's cruising. He pulls himself up on everything and cruises along," Drew shares.
But, if left up to her baby boy, the first-time mom admits her son would much rather prefer to hitch a ride courtesy of Drew. "We just got him this tricycle that he is obsessed with," she says. "That's all he wants to do, ride his tricycle."
— Anya Leon with reporting by Melody Chiu