Alyson Hannigan: No Sibling Rivalry Between Satyana and Keeva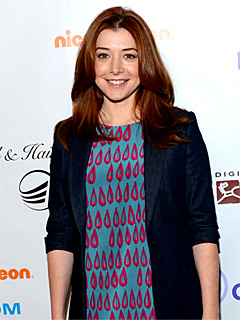 Michael Buckner/Getty
An only child herself, Alyson Hannigan had her fair share of fears when she found out she was pregnant with her second child.
But with some encouragement from her parents — and a special present from her baby sister! — the actress's daughter Satyana Marie instantly washed away her mom's worries.
"We did a lot of making it a really big deal, like, 'You get to be a big sister!'" Hannigan, 38, told PEOPLE during the March of Dimes Celebration of Babies luncheon on Dec. 7 at the Beverly Hills Hotel.
"When the baby arrived, we had her give her big sister a big play structure in the backyard. It was a gift from the baby to her big sister and [Satyana] loves it."

Noting there hasn't been "one moment where we're like, 'Oooh, sibling rivalry,'" the mom-of-two admits there's nothing but love between 3½-year-old Satyana and 7-month-old Keeva Jane — almost a bit too much of it!
"The other day [Satyana] was hugging [Keeva] so hard I was like, 'I think her head might pop off.' I don't want to be like, 'Ooh!' because I don't want her to have a complex about her sister," the How I Met Your Mother star explains.
"But I'm like, 'Oh you know, I don't know if she can really breathe right now! That might just be a little too hard,' and Keeva's just as happy as [can be]. It's so great."
Although she may be busy refereeing the tough love tactics between her two girls, Hannigan couldn't be happier with her greatest role to date.
"My whole world changed for the better as soon as I became a mom," she says. "It's not only the hardest, but absolutely the most rewarding job ever. There needs to be a better word than 'job' because jobs you get time off and you never get time off from being a mom."
Even when she's logging long hours on her day job, adds Hannigan, who is often joined by both girls on set.
"I'm so fortunate I can bring my kids to work and so my baby comes with me every day and we have a nursery set up," she says. "I'm a lot more fortunate in that regard, but I think, just do the best you can and hang in there because [balancing it all is] so hard. There's always some sort of degree of guilt like, 'Am I doing okay?'"
— Anya Leon with reporting by Melody Chiu