Neil Patrick Harris: Twins More About Packaging, Less About Presents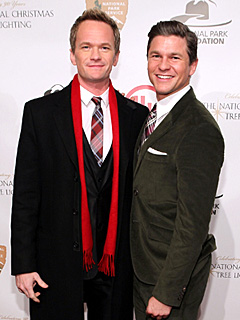 Paul Morigi/WireImage
Neil Patrick Harris might just hit a whole new high of cuteness this year with his annual holiday photo shoots.
And, as always, the stars of his sweet snapshots will be none other than 2-year-old twins Gideon Scott and Harper Grace.
"The kids really like wearing hats. I thought they'd rip them right off, but the opposite is true," the actor, 39, tells PEOPLE exclusively.
"So I bought two Santa caps with their names on the front. [They] should make for a cute picture … or seven."
Aside from their matching Christmas apparel, the twins and their dads — including David Burtka — have been busy getting their household decorated for the holidays, where the family of four will spend the big day with the couple's parents.

And while Harris is "very much looking forward to" staying home, he admits the season got off to a bit of a rocky start. However, a few broken Christmas tree adornments later, and the How I Met Your Mother star is all the wiser.
"David and I quickly realized that all of the ornaments on the lower third of the tree should be plastic or unbreakable," he muses. "Yeah, we learned that the hard way. The shatter-y way."
Although this year's festivities may include a few traditions — namely, milk and cookies because Harris will "be hungry at midnight" while assembling the twins' toys — the focus will be mainly on the gift giving or rather, present packaging.
"We've always opened a few gifts on Christmas Eve night, after our big dinner. Then most of Christmas Day is spent going from person to person, opening a present at a time," Harris shares.
"This year our twins have a vague concept of presents, but it's all about destroying the wrapping paper and boxes. Very little to do with the contents inside…"
After the twins play with their presents, they can look forward to winding down with Netflix Just for Kids, which gives Harris access to countless cool flicks the whole family will enjoy.
— Anya Leon with reporting by Jennifer Garcia