Beverley Mitchell's Blog: I'm Having a Baby Girl!
Please give a warm welcome to our newest celebrity blogger, Beverley Mitchell!
Best known for her role as Lucy Camden on the long-running drama 7th Heaven, the actress most recently played Kaitlin O'Malley on The Secret Life of the American Teenager.
Mitchell, 31, and husband Michael Cameron have announced that they're expecting their first child in April — and kicks off her blog by announcing the sex of the baby! (Hint: She's thinking pink.)
You can find her on Facebook, WhoSay and Twitter @beverleymitchel.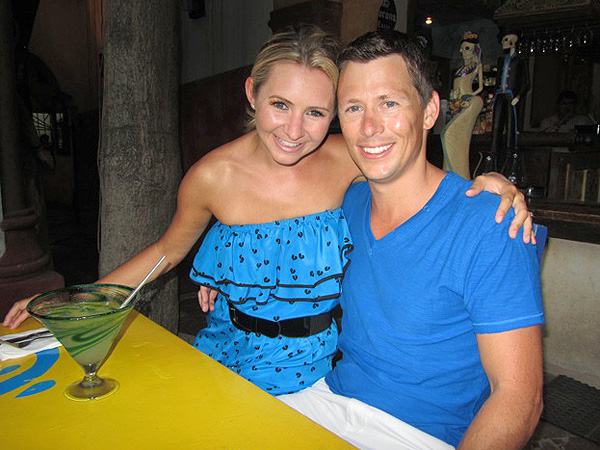 With Michael in Cabo – Courtesy Beverley Mitchell

Hello there! I am so incredibly honored to be the newest mommy blogger for PEOPLE.com. For all those who may not know me, my name is Beverley Mitchell. I'm best known for playing Lucy Camden on the longest-running family television show of all time, 7th Heaven.
Now I am getting ready for the biggest role of my life — that of Mommy! My husband and I are so excited to be expecting our first child in April of 2013. Let me give you a little background on my growing family — the things you can't just find on Google.
My husband, Michael, and I have been together since I was 20. So for all you doing the math, we have been together for almost 12 years. We met in college, and honestly it was love at first sight. I walked into a party, I saw him and I knew that he was my guy. I don't think this was exactly the same feeling on his part, but with time, I quickly made him realize that this was a forever type of love.
Michael is the first person who not only challenged me, but also pushed me to be a better person. His unmistakable laugh lit up my world. Michael is truly the most incredible human being I have ever met, and he has enriched my life more than I can ever explain. He is not only the love of my life; he is my best friend, my patient teacher and partner.
We dated for five years, had a three-year engagement, and now have been married for four years. We like to take our time. Well actually, that's more Michael! I'm a "let's do this" kind of girl, but I guess it's good because it keeps us well-balanced.
Needless to say, after four years of marriage we definitely got a lot of pressure to start a family. As you can tell by our history, we tend to take our time and to be honest, the best thing for us is for it to come by surprise. And a surprise it was! We were not trying, but this magical little accident has already enriched our lives so very much and the baby isn't even here yet.
It is quite amazing how our incredibly strong relationship has been made even stronger. Our love has bloomed in a way I never could have imagined. This journey into parenthood has brought us closer than ever before, and my already full heart just continues to fill. We both are so incredibly excited we can hardly contain ourselves.
Okay, enough with the gushy stuff.
It's funny; I've played a mom on TV so I thought, "I totally got this." I am great with kids and have always known that I wanted to be a mom. There has never been any question that it would happen. The only thing I never accounted for was pregnancy. To be honest, I felt completely unprepared for and ignorant to all things PREGNANT.
I mean, I have friends that have kids and all, but there are some very important things that they failed to mention, things that would be nice to know going into this life-altering event. For all those who have already had their children, you know what I mean; for all those who are pregnant for the first time, get ready, it is quite a roller coaster! And it is filled with surprises!
You think I am going to tell you all that I learned? Well, I think it is kind of fun to be thrown in, so have fun! HEHE! But in all seriousness, it is quite incredible being completely out of control of your body for the first time.
I mean, hormones — forget about it! Sometimes I am just so baffled by myself that I feel like I'm having an out-of-body experience watching a crazy woman. Good news is, I usually settle back in pretty quickly. But I definitely have some epic moments and Michael is a saint for letting me have them.
I am also in awe of the body transformation. I have always been incredibly in tune with myself, but watching it truly transform and change shape has been unsettling at times. (I never knew I was vain until I watched the numbers on the scale steadily rise … I am slowly getting over this.)
My current wardrobe is a complete and utter fail that no longer fits like I remember. My food allergies have totally disappeared — turns out baby likes yogurt, eggs, cheese … all things I haven't eaten in years because of my inability to process them. Bring on the pizza!
Lastly, the beauty of the belly (again, at times unsettling). The true transformation of the body — changes I could never have imagined — I can't help but find it completely magical. It is absolutely fascinating, and now even more so as I begin to feel movement and kicks (this I can totally get used to!).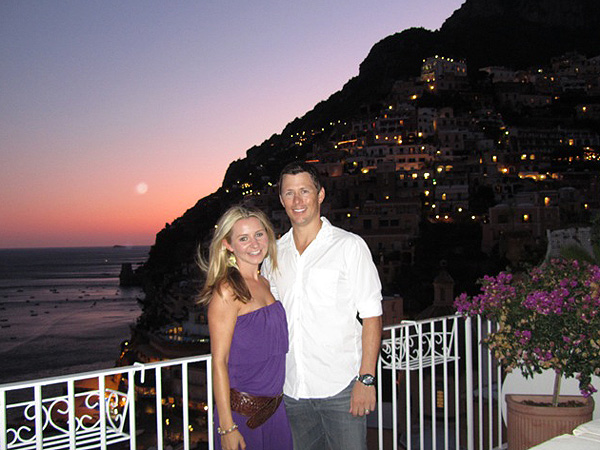 Revisiting Positano, Italy where we married in 2008 – Courtesy Beverley Mitchell
So you may or may not be wondering what this little bundle of joy is … BOY or GIRL? Hmm … should I tell you?
Well if you twist my arm, we are thrilled to be welcoming a beautiful baby girl into our family! And yes, she has already stolen my husband's heart. He proudly shares the picture of our 4D ultrasound.
I still find it a little creepy but cute at the same time, but he's already in love. And for the first time I am okay with him loving someone more than me, though it is a little crazy since he has not met the little lady just yet. However, I completely understand because I already love her a whole lot too!
I am so excited for this crazy adventure and I am honored to have the opportunity to share it with you. I promise to always be real and brutally honest on this journey! So get ready and let's have some fun. You can leave me a comment below or send me a Tweet @beverleymitchel.
Now we are getting to the good stuff — just four months left and I promise I am counting. This is flying by and before you know it, this little girl will be here and our lives will be forever changed! And I can't wait!!!
— Beverley Mitchell