Hugh Jackman: Our Infertility Battle Was a 'Difficult Time'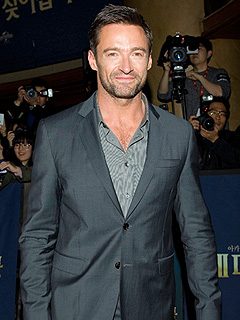 Han Myung-Gu/WireImage
He may be one of the most doting dads in Hollywood, but the path to parenthood was a difficult one for Hugh Jackman.
Before the actor and his wife Deborra-Lee Furness welcomed Oscar Maximillian, 12, and Ava Eliot, 7, through adoption, they fought a long battle with infertility, undergoing IVF treatments only to have the resulting pregnancies end in miscarriages.
"It is a difficult time. The miscarriage thing — apparently it happens to one in three pregnancies — but it's very, very rarely talked about," Jackman, 44, said during a Tuesday appearance on Katie.
"It's almost secretive. But it's a good thing to talk about. It's more common and it's tough, there's a grieving process you have to go through."

Now the adoring dad of a son and daughter, the Les Miserables star says adoption was never a last resort; It has always been a part of the couple's parenting plans.
"To be clear, Deb and I always wanted to adopt," he explains. "We didn't know where in the process that would happen, but biologically, obviously, we tried and it was not happening for us."
The light at the end of the tunnel came with the arrival of their baby boy. His birth, shares Jackman, washed away their worries and struggles for a successful pregnancy.
"The moment Oscar was born all the heartache melted away. You can't prepare for that moment, nothing can prepare you," he says.
"You can't even explain how incredible it is and that avalanche of emotion that comes. How it opens up your heart, how it frustrates you, how it angers you and … all of a sudden how alive you are."
— Anya Leon