Gwen Stefani: Having Kids with Gavin Is the 'Ultimate Collaboration'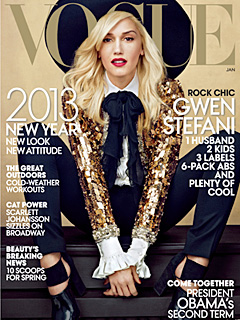 Courtesy Vogue
Despite her long list of impressive accolades, Gwen Stefani doesn't have a problem pinpointing one of her proudest accomplishments.
The songstress, 43, and her husband Gavin Rossdale celebrated their 10-year wedding anniversary in September, a feat Stefani admits is far from easy, but worth the work.
"It's pride. You feel proud. There are just so many rewards that come with it," she tells the January issue of Vogue.
"But, actually, it's fun to get to this point. Because you learn so much about somebody. It's like these wars that go on and then you kind of get through to the other side, and it's like, 'Wow.'"
Strengthening their 16-year-long love has been the addition of the couple's two children, sons Kingston James McGregor, 6½, and Zuma Nesta Rock, 4.

"Having kids takes the whole relationship to another place. It is the ultimate collaboration," she explains. "Both of us have such strong opinions about how it should be, and it's really fun to do it together."
Fortunately for Stefani, it was a gradual ease into motherhood, with the biggest challenges of raising children finally presenting themselves only when it was time to send her eldest son off to school.
"At first your life is totally the same. You have this cute little thing that you get to drive around everywhere and you're so proud and it's amazing," she says. "And as they grow older, it really does start to change your life. Like, 'Oh my God, they have school, they have to get through first grade, they have to learn to read.' It starts getting so serious, and you're like, 'Ahhh!'"
The sudden reality of parenting her rambunctious boys hit Stefani full force in 2011, when Rossdale headed out on tour with his band Bush to promote their first album after a 10-year hiatus.
With the dynamic parenting duo continents apart, the mom-of-two, who was once able to withstand longer stretches of separation from Rossdale, found her family wasn't nearly as functional without her better half.
"I mean, he was there for me mentally, but physically? These boys are physical. They wake up and they start punching each other!" Stefani says with a laugh.
"One thing we've had in our relationship the whole time is that we can have it both ways: together, not together, and it's fine. But when you have kids? It's not so great. They need him."
She continues, "Once you have a family, it's just so obvious how everyone needs each other. So it's really nice to have him back."
Although she held down the homefront while Rossdale was away, the couple have also been known to pack up the troops and bring their boys along on the road. Most memorably, Stefani hit the stage while pregnant with Kingston and continued touring after welcoming her son — balancing breastfeeding and show schedules.
"I would want to throw up during certain songs. Certain outfits would make me sick. It was torture. I toured until I was 4½ months pregnant, showing," she recalls, returning to the road when Kingston was 8 months old.
"I nursed him for 14 months, so I would literally do my hair and makeup, go back to the bus, nurse him, put him down and walk out on stage. And I did that for 100 shows."
Fortunately for the No Doubt frontwoman, there have been performances that have kept her much closer to home — and to her boys. Teaming up with her bandmates after a three-year break, the group swapped out concert venues for a much more intimate atmosphere when they agreed to participate in Zuma's school fundraiser.
"I was going to do an acoustic thing with Tom [Dumont], just a couple of songs. The night before we were like, 'Why don't we all do it?'" she shares. "And we got up there and we did these songs, and it was a very surreal setting. It was kind of weird going to school the next day. Oooh, awkward! But it was so great."
From her personal to her professional lives — and her whole brood of boys, from her band to her family — Stefani is utterly blessed. So much so, that she admits she often wonders if it's all just a dream.
"[Our house is] an all-white box, super modern, 30 foot ceilings, marble floors. It's just so nice," she says. "I never thought I'd live in a house like this. Every day I'm like, 'Really? Are you serious? Thank you, God. This is too good.'"
— Anya Leon