Hilary Duff: Luca Loves Our Lopsided Christmas Tree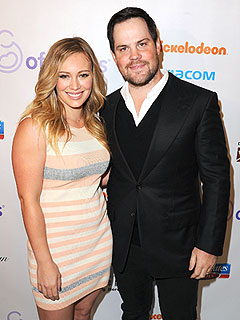 Steve Granitz/WireImage
This Christmas will mark the first as a family of three for Hilary Duff and she couldn't be more excited to celebrate — Luca Cruz, lopsided tree and all.
"He's into everything. I'm running around the house just trying to keep up with him. He's so fast!" Duff, 25, tells Access Hollywood Live.
"He loves the Christmas tree. Obviously we have a funny looking Christmas tree [because] all the ornaments are at the top."
Continuing with tradition, the trio — Duff, husband Mike Comrie and their 9-month-old son — will spend the holidays in Newport Beach, Calif. and take part in his family's festivities.

"It's nine kids going crazy, basically wrapping paper flying in the air, toys everywhere and mayhem," she says. "We're really looking forward to that  — we get to bring a baby this year! — so it's really exciting."
In addition to cherishing time with her son, animal advocate Duff recently contributed to A Letter to My Dog: Notes to Our Best Friends. And with her pack of pooches a big part of the household, the new mom and Comrie made it their priority to prep them for baby boy's arrival last March.
"We kicked the dogs out of the bed a month before Luca came so they didn't blame the baby for why they couldn't sleep in the bed any more," she explains.
"We gave them a blanket … that Luca's smell had been on in the hospital — and it worked. Mike brought Luca in, I came and gave the blanket to the dogs and loved on them … They've been fine with him."
Having just regained her pre-baby body, Duff admits adding another baby to the mix isn't in the couple's immediate future.
"Mike and I are literally obsessed with Luca. We're like, 'He's perfect. We should just be one and done,'" she shares. "But I think once your baby starts getting older you miss that phase and you go in for round two. Maybe when [Luca's] two or three?"
— Anya Leon