Channing and Jenna Dewan-Tatum Expecting First Child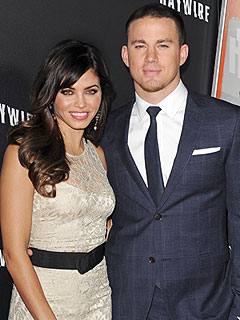 Bauer Griffin
Channing Tatum is set to earn another title: Sexiest Dad Alive.
The actor and his wife Jenna Dewan-Tatum "are pleased to announce that they are expecting the birth of their first child next year," reps for the couple confirm to PEOPLE exclusively.
Crowned PEOPLE's Sexiest Man Alive in November, the Magic Mike star admitted he and the American Horror Story: Asylum actress, both 32, had babies on the brain, adding a family wasn't too far off in their future.
"I'm ready; I think she's ready," Tatum told PEOPLE recently. "The first number that pops into my head is three, but I just want one to be healthy and then we'll see where we go after that."
Left up to Tatum, the couple — who wed in Malibu in 2009 — would be going the distance … all the way into the double digits. "It's really easy for us guys to say, 'I want like 15 kids,'" he noted. "Jenna will be like, 'Well you better get another wife!'"

— Anya Leon with reporting by Julie Jordan and Antoinette Coulton
RELATED GALLERY: Channing & Jenna: From Costars to Co-Parents