Jane Krakowski: Santa Made My Son Scream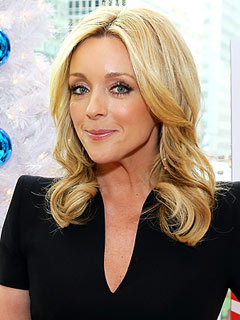 Neilson Barnard/Getty
Not everyone finds Santa Claus so jolly — namely, Jane Krakowski's 20-month-old son, Bennett Robert.
"We went and saw Santa for the first time last weekend," the actress told PEOPLE at a Bank of America charity event on Wednesday. "We have the classic screaming by the Santa Claus photo. I love it."
But with Bennett's latest craze over clothes, St. Nick has it easy when it comes to the toddler's wish list.
"I don't know if it's just his age or because of his parents, but he enjoys getting clothes as gifts," Krakowski, 44, explains. "Maybe he doesn't realize that toys are more fun! When he gets a new sweater, he hugs it."
It's a busy time of year for the star — who finishes filming the final season of 30 Rock on Dec. 17 — as she prepares to host Christmas dinner at her home for the first time.
But the ending of an era is bittersweet for Krakowski. While she'll now have extra time with Bennett, the first-time mom found the balance of her professional and personal lives doable during the show's run.
"It's been great because I work with other working moms, and Tina Fey is a great example of a multitasking working mom," she says. "[When 30 Rock is over], I'll be what they call a stay-at-home actress."
One thing's for sure: Krakowski certainly has a lot of love at home to return to.
"The other day [Bennett] grabbed my face and gave me a kiss for the first time," she shares. "Like he understood what a kiss was. I was like, 'Okay, that's it! That's the whole thing!'"

— Shakthi Jothianandan