Liev Schreiber: My Boys Prefer Biking Around N.Y.C.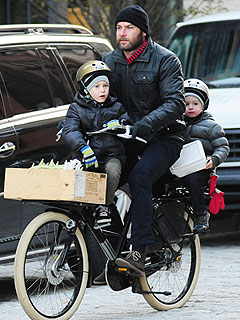 Humberto Carreno/Startraks
Forget about car services, taxicabs and the subway. For X-Men star Liev Schreiber and his family, riding a bicycle is the best and only way of traveling around The Big Apple.
"My sons and I are biker boys," Schreiber, 45, told PEOPLE at Tuesday's Museum of the Moving Image gala honoring Hugh Jackman in New York.
"It's my favorite way to get around the city and the kids absolutely love it. They have the best time and they would rather go on a bike than any other form of transportation."
Schreiber's sons Sasha, 5, and Kai, 4, with fiancée Naomi Watts, are frequently spotted catching a ride with Mom and Dad on their bikes as they run errands around the city.

But the actor — whose past professions include bike courier — hopes his youngsters will soon learn how to balance, pedal and steer a bicycle themselves.
"They are not off training wheels yet. The problem is they are not riding their own bikes," he explains. "They would rather ride with me or with Naomi. So we have this great bike where the three of us can all sit on. It's fun, but it's time to get them on their own. I'm trying to get them to the park so they can practice."
The doting dad, who stars in the upcoming film The Butler as President Lyndon B. Johnson, is enjoying fatherhood and cherishes every minute of it.
"They are growing up too fast and it's tough to leave them," says Schreiber. "When you are working as much as Naomi and I are working, there's some guilt. I want to be present and experience all the milestones. Both of us are getting pulled so I don't take time with them for granted. Every day with them is remarkable to me."
— Paul Chi