Spotted: Tobey Maguire and Otis' Balancing Act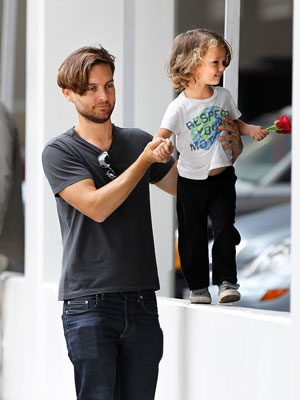 KAMINSKI/Splash News Online
It's climb time!
All the world's a jungle gym to Tobey Maguire's 3½-year-old son Otis Tobias, who gets a hand from his doting dad on Thursday while out in L.A.
Also parents to 6-year-old daughter Ruby Sweetheart, The Great Gatsby star and his wife Jennifer Meyer Maguire chose names for their children after they were born — a plan that backfired on the jewelry designer.
"I got an extra form and filled it out and misspelled Otis," Maguire, 37, told Ellen DeGeneres.
"[I] brought it back to my wife and was acting very innocent. 'Oh, I'm so excited! It's official! Look,' and I handed her the paper."
RELATED: The Great Gatsby Trailer: Watch It Here