Nicole Richie and Harlow's Matching Fedoras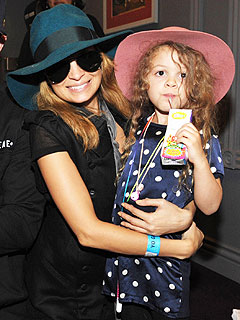 John Shearer/Invision for GabbaCaDabra/AP
After Nicole Richie and Harlow stepped out sporting sleek top knots last summer, we thought this mother-daughter duo couldn't get any cuter.
But on Nov. 23, they topped that look — literally. While making their way into the Yo Gabba Gabba! Live! show at the Nokia Theater in Los Angeles, the fashion designer and her 4½-year-old mini me stepped out in similar hats and flowing hairstyles.
Richie opted for Emilio Pucci's Wool-felt Fedora ($300), while Harlow covered her curly locks with a pint-size pink version.
And judging by the photo Richie posted three days later, their mommy-and-me hats must have been a hit. "Dancer & Dasher," she Tweeted to describe the adorable snapshot of the stylish pair hand-in-hand on another chic outing.

Ready to try out this trend with your tot? Our picks: August's Ribbon Bouquet Asymmetrical Fedora ($28) and SK Hat Shop's Pink Fedora Trilby Hat ($15).
— Anya Leon