Molly Sims: Mommy and Me Makes Me Competitive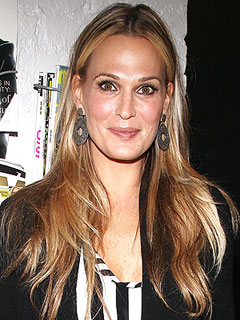 Paul Zimmerman/Getty
Molly Sims' motherhood motto is simple: May the best baby win!
According to the model, her 5-month-old son Brooks Alan is on a roll when it comes to meeting his milestones — especially with his motivated mama cheering him on.
"We have been going to Mommy and Me classes, which are interesting because you start to be in competition," Sims, 39, told PEOPLE during a Rembrandt Holiday Party Prep event on Wednesday at Blow, a New York City blow dry bar.
So who is the latest contender? None other than Brooks' cousin Wyatt, Sims jokes. "My husband's cousin just had a baby so that makes them second cousins," she says of the two boys.
"He was only three weeks older than Brooks … and he was crawling. He was almost standing up. I was like, 'Okay, we have got to move it. We've got to work on tummy time!'"

Unfortunately, spending time on his belly isn't on Brooks' list of favorites. "He is not going to be able to crawl well because he doesn't like tummy time," the new mom admits.
When it comes to his set of chompers, however, Sims' son seems to have skipped the gummy grins and went straight for the toothy smiles. "He was born with a tooth and now he has another. He has two teeth on the bottom in the front," she shares.
As for his nighttime schedule, a proud Sims reveals her son excels in the sleeping department, too.
"Thank God, I sleep trained him. We used … Jill Spivack and she owns this company called Sleepy Planet," Sims explains. "It is an amazing book and an even better DVD. And [you're] done in three nights! Done!"
Since her son's arrival, Sims has been setting a few records of her own. Once happy to soak up hot showers, she has now cut her time down to a few short minutes.
"I used to take these long 30 minute showers. Now it's like two minutes — in and out," she says. "That's the one thing that has definitely changed. I don't even know what I did with all of my time before."
When she's not spending time with "the best thing in the world" — Brooks — the first-time mom is busy battling the last 12 pounds she has to lose before returning to her pre-pregnancy weight.
"The best thing is when I have Brooks in the Baby Björn and I go hiking with him. I am sweating my ass off! That is the best way to lose weight," she shares of her exercise routines, which also include working out with fitness trainer Tracy Anderson.
"Even if it's cold outside — get on a treadmill [or] go to the gym. The biggest trick when you are in a gym is to … talk to a friend on the phone. I'm telling you that I have burned the most miles talking to my girlfriend! I vent about my husband and how I have no time anymore."
While she's not quite at her goal weight, Sims and her husband Scott Stuber are already reaping the benefits of her hard work.
"My lingerie pre-baby weight is what makes me feel sexy," she says. "I can almost fit into it now. I just have a little muffin top coming over the sides."
— Anya Leon with reporting by Lorina Lana