Try Holly Madison's Favorite Pregnancy Treat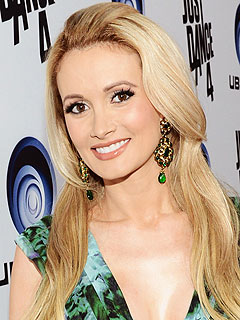 Michael Buckner/WireImage
Ever since becoming pregnant three months ago, Holly Madison is enjoying a whole new breakfast routine while eating for two.
"One of my favorite ways to stay healthy during pregnancy is by starting my day with a green smoothie," the former Girls Next Door and Holly's World star, 32, shares on her website.
But Madison, who is expecting her first child (a baby girl!) in March, isn't the only one into juicing. "I've even got my boyfriend [Pasquale Rotella] drinking them, too," the mom-to-be adds.
Need a yummy energy boost? Check out Madison's recipe below.

— Mark Gray
2 Cups Water
2 Large Handfuls of Spinach
1 Banana
2 Cups Strawberries
1. Blend spinach and water well.
2. Add banana and strawberries (be sure to cut the leaves off of the strawberries).
Feel free to add more strawberries for a sweeter taste! This recipe makes two large smoothies.