Jennie Finch's Blog: Fake It 'Til You Make It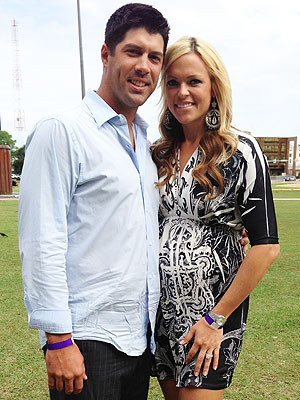 With Casey at the Women's Commission Fall Conference
Thank you for welcoming back celebrity blogger Jennie Finch.
After sharing her pregnancy with now 17-month-old son Diesel Dean with us, we asked the recently retired softball player for an update on family life.
It turns out that Finch had some news to break: she's expecting her third child — a girl! — in January!
In addition to Baby D, the Olympian, 32 — who won gold in Athens and silver in Beijing — and her husband, pitcher Casey Daigle, are also parents to son Ace Shane, 6.
You can find Finch — author of Throw Like a Girl: How to Dream Big and Believe in Yourself — on Facebook and @JFinch27 on Twitter.

I can't believe I am already 31 weeks pregnant. This pregnancy has flown by. My daughter is kicking, turning, and stomping inside. She is making her presence known. Our baby girl and her mama are growing rapidly. I feel like I am expanding in all areas with her and she's come on quicker than my boys. I'm not sure if it's us being in Louisiana and all the southern cooking, baby #3 or just me.
Okay, I will take the blame. Having the boys and still traveling quite a bit, it's been tough to take the time to get a good solid workout in regularly. It's always these last few months that bring it on. Sleep gets a bit tougher, your body is stretching to its max, and the routine of every day tends to be more challenging.
I was trying to help myself feel better last week after a week of sweats and hair in a bun, and put on some bronzer and mascara. It just so happened Casey told me I was glowing that day! I didn't let him in on my secret. Some days you have to fake it 'til you make it.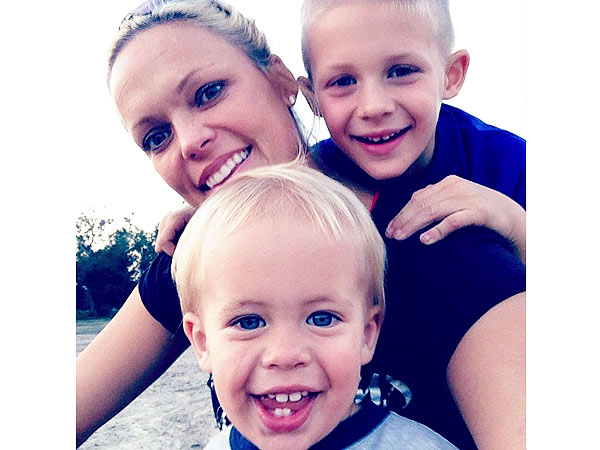 At home with my boys – Courtesy Jennie Finch
I can't help but be filled with absolute gratitude for every discomfort, busted button, and my growing body. Motherhood is the greatest thing I have ever done and the most beautiful blessing. I was telling Casey the other day how sad I was to see Ace grow up. He is a little man now. He looked at me and laughed and said, "Save it! Look in that car at the car seats and look down at your belly!" He always tells me what I need to hear and brings me to reality.
No matter what I am making the most of these wonderful and challenging days of being a parent. It truly cannot get any better — well maybe so in a few months!
As anxious as I am to meet our precious baby girl, I want to freeze time with my boys. It just seems as though time flies by, the weeks and weekends keep coming and going.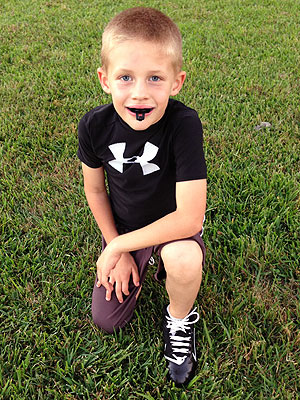 Ace ready for flag football – Courtesy Jennie Finch
Ace is now 6 years old and enjoying first grade. He is really getting the hang of reading and it has been so much fun watching him learn and discover our world. You can see the wheels turning as he is reading books, labels, signs and more! He is playing flag football for the first time and is thrilled to be on the Saints! My heart is overflowing with joy to watch him play. It has been so fun packing up the family and watching him learn and enjoy a new sport.
There are so many wonderful positives from sports, and coming together as a family is one of the best blessings. I have so many incredible memories of our family traveling from field to field for practice and games. I will forever treasure those memories from my childhood, and am soaking them up as we begin them with our family.
Diesel is now 17 months old and full of spunk! My boys couldn't be any more different. Diesel is one determined little boy. He has no fear, is one tough cookie, and marches to the beat of his own drum. He is feisty and when he is on a mission, he is on a mission. He is our ranch boy, he is happiest outside when he can roam and go wherever his little heart desires — a lot like his daddy!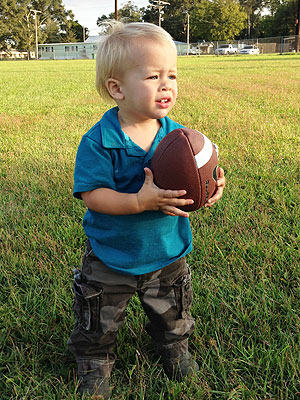 The littlest athlete – Courtesy Jennie Finch
Diesel has an arm and he isn't afraid to use it. He fires trucks, balls, anything he can get his hands on across the room. We are already planning on elevated arrangements for our baby girl to keep her out of the line of fire! It's hard not to smile when he does these things, though, because he has an hilarious sense of humor to go along with it. Both boys have a great silly side.
Diesel is still challenging at night. We are hoping to get his sleep schedule solved by the time our baby girl comes. Fingers crossed! I have never been able to withstand the "cry it out" method. Luckily for us all, Casey is a softie too when it comes to this. He's supportive and just wants us all happy. I keep reminding myself, this too shall pass. Someday Diesel will go to bed by himself, sleep all night, and not need me and then I will be sad … wishing for it!
Ace was so laid back and often would sleep 12 hours at a time. Ace would sleep on a plane, in a dug out, on a bus, and through security at the airport. Diesel, well … he doesn't. He sleeps about seven hours at the most at one time. He is a light sleeper as well.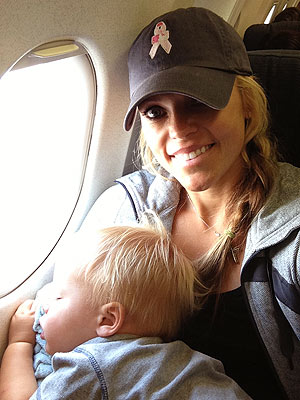 Finally zonked out – Courtesy Jennie Finch
My last trip to N.Y.C. … wow. I felt as though I had pitched two games back-to-back by the time we got off that airplane. Diesel wanted to kick, shake, pull the hair of the person in front of us … I pulled out every trick I had to keep him entertained and tried to keep him distracted.
It has been a challenge trying to manage Diesel on the road, but I am so blessed and it's so worth it to be able to have him with me on some trips. I know it's harder and I sleep less than I would otherwise, but I wouldn't have it any other way.
We had a great time in Central Park and he even indulged in his first N.Y.C. hot dog! Diesel loved it. I knew he would. Both my boys love their hot dogs, and I craved them through both my pregnancies with them. It's funny how that works!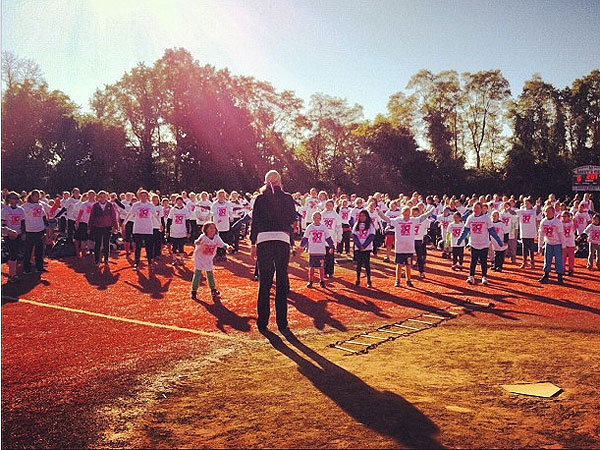 My New York campers – Courtesy Jennie Finch
We just finished our last two softball camps for this year. I often wonder what this baby thinks her mommy is doing when I'm pitching. It was tough getting through with this growing bump, but we always get it done!
It's another thing I try to cherish. All those young girls, loving this sport that has given me so much, and has so much to give them. Sometimes the challenges provide the biggest blessings.
Parenting is definitely the hardest thing I've done, but the easiest at the same time. You can't describe the love you have for your children and the joy they bring … and it just continues to grow more and more.
Still dreaming and believing,
— Jennie Finch