Salma Hayek's New Nail Polish Collection Inspired by Daughter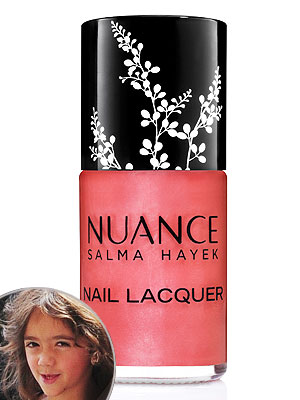 Josiah Kamau/BuzzFoto
Valentina Pinault sure knows how to motivate mom Salma Hayek.
The 5-year-old, who keeps the actress laughing after long days at work, can also take credit for inspiring the new line of nail polishes from her mother's beauty brand, Nuance.
"Valentina is obsessed with the colors," Hayek tells PEOPLE about her little helper.
But it wasn't just the pint-size fashionista's love of bold hues that Hayek considered when developing the collection, which launches online and in limited CVS stores starting Nov. 19 with 30 chic shades.
The concerned mom also made sure all the polishes, including base and top coats, were made with a kid-friendly formula that combines both natural ingredients and vitamins.
"It was very important for me to incorporate nail lacquer that isn't very toxic," Hayek explains.
— Anya Leon