Brian Austin Green: How Reese Witherspoon Kept Our Baby News Quiet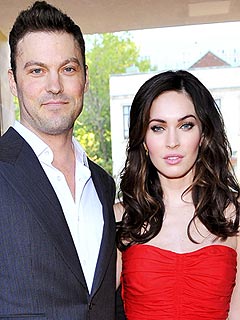 George Pimentel/Wireimage
Brian Austin Green and Megan Fox are counting their lucky stars — or at least one particular starlet.
Confirming they had welcomed their first child together, son Noah Shannon, three weeks after his birth, the actor attributes the couple's ability to keep the news under wraps to one woman: Reese Witherspoon.
"I've been wanting to send Reese Witherspoon flowers for, like, a month and a half now, 'cause she actually gave birth [the same day as] us in Santa Monica," Green told Ryan Seacrest on his radio show Tuesday.
"We were lucky enough to go in at 2:30 in the morning to the hospital and nobody knew."

After spending two days there, the proud parents learned that Witherspoon had welcomed a son. The media was too entangled in the actress's breaking news to notice the Fox-Greens had also added a brand new baby boy to their family.
"We got out of the hospital and nobody knew. We got home and thought, 'This is unbelievable.' We weren't expecting to be able to get away with it. We were expecting all the [paparazzi] guys in the hallways and the parking structure," the Wedding Band star shares.
"So we just figured we would go with it as long as we could. Until [E! News] found out first and we thought, 'Okay, let's put something on Facebook then.'"
Already dad to 10-year-old son Kassius Lijah, Green didn't think much of becoming a father again a decade later. The arrival of Noah, however, quickly snapped the actor back to reality.
"I really felt young for my age until my new son was born. I've never felt so 40 in my life," he jokes. "He's really good — he sleeps but it's only in three hour increments."
And it's those late-night wake-up calls that has the doting dad beat. "You get about three hours and then he'll fuss about something," he explains. "First you spend 10 minutes figuring out where you are, then you realize, 'I'm home and it's my child.' Then you figure out what's wrong — a diaper or hungry."
— Anya Leon