Beverley Mitchell Expecting First Child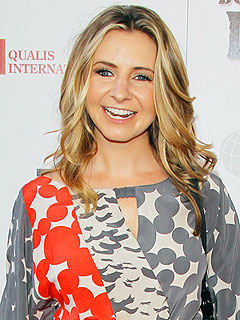 Michael Tran/FilmMagic
The nose knows!
Beverley Mitchell suspected something was going on when she suddenly developed a super sniffer around four months ago.
"My sense of smell was off the charts, to the point where I could smell a kid's dirty diaper from the other side of a restaurant," says Mitchell, 31, best known for her role as Lucy on the long-running drama 7th Heaven.
The actress, who plays Kaitlin on The Secret Life of the American Teenager, soon learned the reason for her acute new sense: She and husband Michael Cameron are expecting their first child in early April, she tells PEOPLE exclusively.
Still, the news took a little while to sink in.

"I was like, 'No, it can't be that,'" says Mitchell. "I took seven pregnancy tests. I went to the doctor and had two more tests and they were like, 'Bev, usually when the first one comes out positive, the rest of them will all say the same thing.'"
The parents-to-be recently squeezed in a very special babymoon: They celebrated their fourth wedding anniversary in Italy, where Mitchell and Cameron, 32, an accountant, wed in 2008 in the town of Ravello. The couple then attended the week-long wedding celebration of Justin Timberlake and Jessica Biel, one of Mitchell's closest pals since their days costarring as sisters on 7th Heaven.
"Jess was one of the first to know [the baby news]. I started crying," Mitchell shares. "It was really exciting to share that with Auntie Jess."
As for her friend's ceremony, "going to any wedding pregnant is definitely an experience if you've never done it before," says Mitchell with a laugh. "I'm just absolutely thrilled to see my best friend marry her best friend."
— Raha Lewis