Nancy Grace Brought to Tears over Twins' Fifth Birthday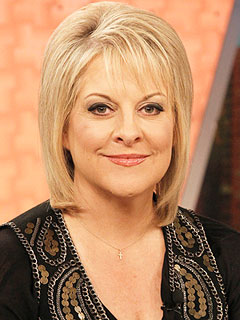 Lou Rocco/ABC/Getty
Tough as nails in the courtroom and now on TV, Nancy Grace can't hold back the emotion over a milestone she once feared she'd never see: her twins Lucy and John's fifth birthday, coming up this weekend.
"When Lucy and I almost died in childbirth, I promise you I thank God every day for this," Grace, 53 tells PEOPLE, her voice choking.
"I just can't believe this miracle in my life: the fact that they're turning 5. The truth is, I'm probably going to start crying."
The HLN host delivered the twins by c-section on Nov. 4, 2007, having suffered a pulmonary edema during pregnancy and developing fluid in her lungs. Baby John was released from the hospital first, Grace and her daughter a few days later.

Grace says she just sent out the invites "calling all mermaids and superheroes. We're going to party like it's 1999," she says. "We're going to blow it out with a big cake with Ariel and Spiderman."
That's just one big event this weekend. On Saturday, Lifetime airs The Eleventh Victim, based on Grace's best-selling novel, starring Jennie Garth as a hard-charging New York prosecutor inspired by Grace from her courtroom career.
The movie also costars Los Angeles Lakers player Metta World Peace (as a detective), whom Grace met when they both appeared on Dancing with the Stars in 2011. (Garth is another Dancing alum from a previous season.)
"Metta and I made friends because we were the only two that were holding down a full-time job with children," says Grace, who also is a producer and has a small role in the film. "He and his wife were just so kind to me and just considerate that when this opportunity came up I thought of him."
— Mike Fleeman