Lisa Loeb: My Not-So-Cute Costume Idea for My Kids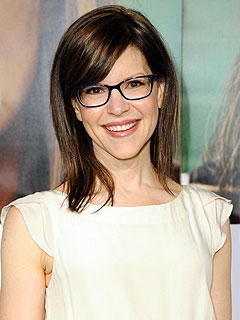 Andreas Branch/PatrickMcMullan.com
All of Lisa Loeb's hard work to prepare her daughter for a baby brother has paid off.
Since welcoming son Emet Kuli in June, 2½-year-old Lyla Rose has proudly stepped into her latest role as big sister.
"She's really interacting with him well," the musician tells PEOPLE. "She loves him so much and is really kind and sweet with him and likes to talk to him."
And what better way to display their blossoming bond than matching Halloween costumes; Loeb has been looking to a favorite children's book for a bit of inspiration.
"We were thinking of Harold and the Purple Crayon. The baby could be Harold and my daughter could be the purple crayon because she loves the color purple," she explains. "But it's not really a very cute costume. It's just … a purple crayon."

But her costume conundrum is only the tip of the iceberg when it comes to parenting challenges.
"As a mom it's been interesting transitioning from having one kid to having two kids," she shares while visiting the PEOPLE offices to promote her eyewear line. "Just when I thought I was getting the hang of it [then] having another baby, [and now] I'm still getting the hang of it."
Her greatest battle has been the never-ending balancing act between her career and her kids — a topic of conversation she continues to engage fellow moms in.
"Luckily, I have a pretty flexible schedule so I have a lot of leeway, but it's been really interesting trying to figure out the balance," Loeb, 44, says.
"I wrote about that a lot in [my] blog because I really do want people to give me advice on how to make it work."
— Anya Leon
RELATED VIDEO: Lisa Loeb's Top 5 Tips for Finding the Perfect Glasses