Great Ideas! Let's Celebrate Halloween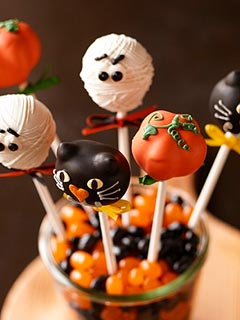 Courtesy Williams Sonoma
It's here! Whether you're preparing for a kid-friendly soiree or heading out for a night of trick-or-treating, our round-up of Halloween-themed party tips, cupcakes, crafts, etc. are guaranteed to help you have a good time.
Celeb mom Tiffani Amber Thiessen even shared her fave holiday must-haves including the classic kids movie: It's the Great Pumpkin, Charlie Brown!
And while you're in the celebrating mood, make sure to check out PEOPLE's boo-tastic Halloween Party.
VIEW THE GALLERIES: 9 Spook-tacular Kids' Halloween Party Ideas, 7 Scarily Delicious Halloween Cupcakes for Kids, 6 Spooky Good Halloween Snacks for Kids, 10 Cool Kids' Costumes for Every Budget, 9 Halloween Crafts the Whole Family Will Howl Over, Tiffani Thiessen's 5 Halloween Must-Haves