Ty Murray: I've Got a Little Helper on the Ranch – Kase!
Ty Murray is currently gearing up for the biggest event of the year in his sport — the Professional Bull Riders' World Finals.
As co-founder of the PBR and a regular commentator, Murray — a former nine-time world champion himself — speaks with genuine excitement about the race for the coveted gold buckle.
But when he travels to Las Vegas for the Built Ford Tough World Finals this week, he's leaving one very important cowboy behind: His 15-month old son, Kase Townes.
"He's just a joy. It literally gets better every single day, and it was great from day one," says Murray, 43, of his son with wife Jewel, 38.
"He has a great disposition and a funny little sense of humor. He laughs all the time and he's got a nice way about him. He's just easy and fun."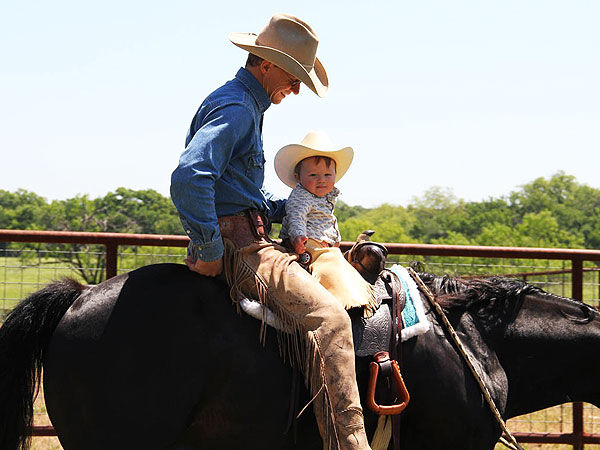 Ty and Kase riding Poppy – Courtesy Ty Murray

Not to mention good company on the family's 2,200-acre ranch in Texas.
"Every day I say, 'Hey, come on, you want to go outside?' And boy, he looks like a little baby duck following me," Murray says with a laugh. "He goes in this [baby backpack] that I put on and he's always right there looking over my shoulder. I might be out there for two hours and I won't hear one peep out of him."
Of course, Kase also likes to lend a hand where he can, and Dad is happy to oblige.
"I'll let him help a little bit," says Murray. "If I'm turning the wrench I'll let him try turning it a couple times. His favorite thing is really just observing and going along with what I'm doing."
That includes one of the daily activities on the ranch: horseback riding. "Kase has been on horseback with me and with my dad," says Murray. "He's been there for when we bring the calves in, when we work the cows … mainly so we can get pictures, but he seems to enjoy it pretty well."
"He's got his little cowboy hats and we had him try walking around in a pair of my old boots. That was pretty cute, watching him try to walk with them on."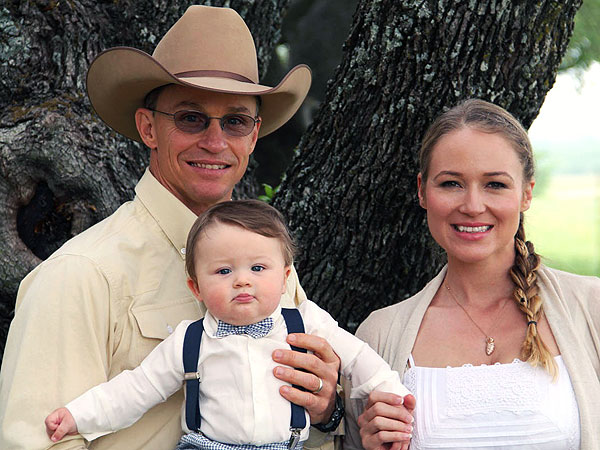 Kase's first Easter – Courtesy Ty Murray
Like any parent, Murray says he takes great joy in watching his son's personality develop — as well as watching his wife find her way as a mother.
"Jewel is a great mom and I learn stuff from her every day," he says. "She just has such a grace and a calmness about her as a mom and it really translates down to Kase."
For obvious reasons, Murray says he hopes his son won't follow in his footsteps and grow up to be a bull rider. But he does hope that Kase finds something that he loves as much as Murray loves his sport.
"With me and Jewel being his parents, everybody says, 'Well, is he gonna be a cowboy or is he gonna be a singer?' That doesn't matter to me and Jewel at all. Those were our dreams, and we don't want to push our dreams on our kid," he explains.
"I just really hope he finds something that he's passionate about."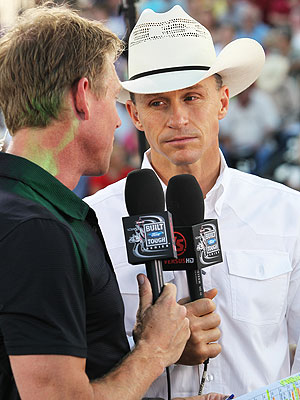 Commentating – Andy Watson/Bull Stock Media
Though Murray admits that he needs "the balance of my family" within his work schedule these days, he remains as committed as ever to the PBR.
He insists that even total newcomers to the sport are likely to get hooked — especially at this time of year, when competition concludes with a $1 million check for the top cowboy.
"Bull riding is a traditional event that's in rodeo. And we took it and made a stand alone, follow-able sport out of it," he says.
"If you tune in and watch a little bit you'll be surprised at how you get sucked in … and for all different reasons. Some people are drawn to the bulls, there might be women that are drawn to cowboys they think are cute, or it might be that somebody's drawn to the danger or rooting for certain guys."
He continues, "This is the only sport in the world that I can guarantee that anyone you take to see an event, they will be blown away. I could take an 80-year-old grandmother or I could take a 5-year-old kid, or anything in between. They don't know anything about it and if I get them to come see an event, they just sit there for two hours with their jaw on the floor."
This will be Murrays' second World Finals since Kase came along, and while he will stay busy in Vegas for the five-day event, he's also got plenty of work to do back home when it's done — starting with Kase's growing vocabulary.
"He understands just about anything you say to him and he says 'Mama' a lot," shares Murray. "All summer, I'd say, 'Can you say 'Dad?' And he'd always pat me. He knows who dad is, but now he's starting to say it."
Murray will provide color commentary on all nights of the PBR World Finals, airing Wednesday and Thursday at 9 p.m. ET on CBS Sports Network; Friday and Saturday at 9 p.m. ET on NBC Sports Network; and Sunday at 4 p.m. ET on NBC.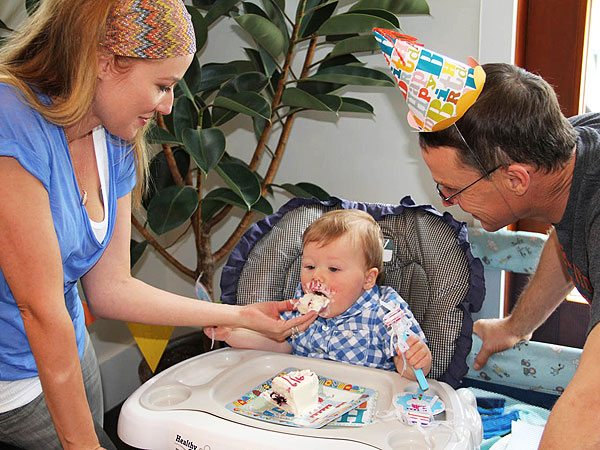 Happy birthday! – Courtesy Ty Murray
— Rennie Dyball