Anne Heche's Blog: Winning the Sunblock Wars
Thanks for welcoming our latest celebrity blogger, Anne Heche!
Best known for her roles on Men in Trees and Hung, the actress, 43, also appeared in Return to Paradise, Six Days Seven Nights, Donnie Brasco and Wag the Dog.
She's currently starring in That's What She Said, out now, as well as NBC's upcoming comedy Save Me, and recently launched Tickle Time, a line of mineral powder sunblock for kids.
Heche is "forever engaged" to James Tupper and is mom to two sons: Atlas, 3, and Homer, 10.
She can be found on Facebook as well as Twitter @AnneHeche.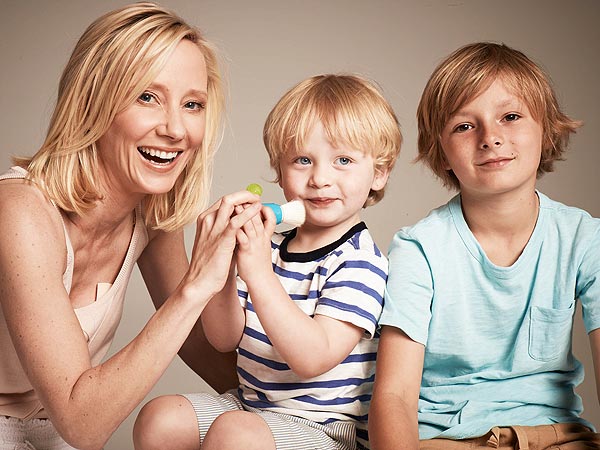 With my sons – Courtesy Anne Heche

Parents are all too familiar with the horror of trying to get kids to apply sunblock — the gooey mess, sunblock in the eyes, the tears! Some of us are even guilty of doing a half-assed job because we do not have the wherewithal to endure another battle with the kids.
The bar is raised for us parents everyday. We keep getting more and more new information about everything we should be doing for our kids and keeping away from our kids. It's exhausting keeping up with it all! That is why when something comes along that is not only good for our kids but makes life easier for parents, I want you know about it!
For the past year, this has been by mission — to stop kids from ever feeling crappy about putting on SUNBLOCK. Would I like to solve world hunger? Cure cancer? Of course! But I can't.
What I can do is make a sunblock for kids that doesn't sting their eyes, make their skin sticky or make them run away from me or my husband in the morning. What do I have to replace it? Smiling faces, happy skin and protected dermis. I created Tickle Time. I did that. I did that with the help of my friends, my husband and my kids.
My friends Kathy and Nicole Tracy are really to blame for the product. They make the glorious minerals for a company called La Bella Donna and I got addicted to their makeup. I have very sensitive, very pale skin and I wasn't burning in the sun when I used their mineral powder foundation. I wondered why, if it was so simple and easy for me to get protection, did my children have to suffer?
Luckily, after I contacted Kathy and Nicole about making a product that was a powder sunblock for children, they had been wondering the same thing.
James is also to blame for investing. He's a guy that really believes in me. I've been lucky, my husband really listens when I talk (well, most of the time anyway). When James heard me say over and over that SUNBLOCK needed to be "funner for kids!" he listened. When I said it needed to be POWDERED and EASY and I needed to call it "Tickle Time," he invested.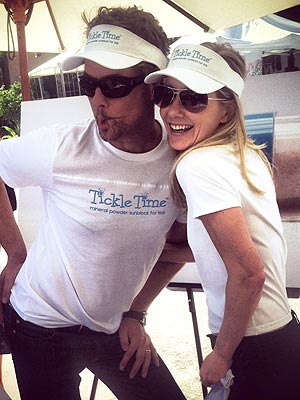 That's my guy – Courtesy Anne Heche
My sons Atlas and Homer are probably the most responsible for Tickle Time. My children, like yours, are the inspiration for everything that I do.
My bond with them drives my life, my decisions and my choices. If I go to work, I go to put food on the table, always attempting to set an example of a healthy way to serve my family. If I go to church it's to help them find a sense of community and understand that we are a part of something greater than ourselves. If I exercise, it's to be as fit as I can be for my family, my career and my future — I want to live long and stay strong.
So when my kids hurt, I hurt, when something is difficult for them, it's difficult for me. Every morning I had a pout-fest happening in my home. "Do you have your lunchbox?" Check. "Brush your teeth?" Check. "Backpack?" Check. "Sunblock?" Pause. "SUNBLOCK?" The second they saw the can in my hand or the tube in their face, they went sour — "NO, MOM! I don't need it!" they would scream.
The wrestling and chasing and wincing and whining needed attention. They were suffering, that's what their reaction was.
I listened. If my sons are suffering, I'm suffering. This needed to stop. And not just for my family, for everyone going through the same struggle. It's over. My kids call out for Tickle Time in the morning now before I need to remind them. A tickle a day keeps the bad moods away.
I can't take all the pain away, and I know that everyday brings new information about raising happy, healthy kids but with TICKLE TIME, at least I have this SUNBLOCK war won.
— Anne Heche