Alessandra Ambrósio Preps for Victoria's Secret Fashion Show Post-Baby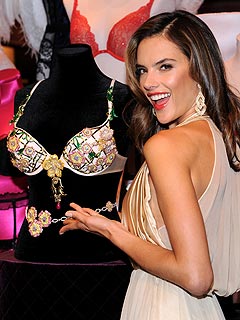 Evan Agostini/Invision/AP
In one more month, Alessandra Ambrósio will exchange her nursing bras for more high-end undergarments.
The Victoria's Secret Angel has been tapped to wear the jewel and diamond encrusted $2.5 million Floral Fantasy Bra from London Jewelers during this year's annual show, following in the footsteps of fellow Angel (and mama!) Miranda Kerr, who donned the bedazzled bra last year.
And after welcoming son Noah Phoenix last May, the Brazilian bombshell (who is already mom to 4-year-old daughter Anja Louise) has been working hard to prepare for her revealing trip down the catwalk.
So what's her secret to shedding the pregnancy pounds? "I've been trying to work out four times a week, but for the show I'll be at the gym twice a day [for the] week before," she tells InStyle, adding she began working out two months after giving birth to her baby boy.

"I love going to Pilates, I love doing spinning classes, I love doing everything that I do," Ambrósio, 31, says.
Everything, that is, except her crack-of-dawn call times. "What I don't love is to wake up early to work out," she shares.
— Anya Leon